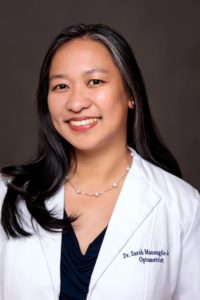 For 12 years, Sarah Manongdo-Joya, OD, had worked at an America's Best Contacts & Eyeglasses location in Chicago, Illinois. In 2017, however, she decided to move to a different corporation that offered her a location closer to her home. The ability to spend more time with her growing family was the major factor in her decision, she says.
As the most recently hired OD in her new employer's location, she was the first furloughed in April 2020 due to COVID-19. Dr. Joya—as her patients know her—had kept in touch with most of her colleagues and management at America's Best, however, and it wasn't long before her previous Area Doctor called to ask if she would consider coming back.
Dr. Joya says it impressed her that National Vision and all affiliated independent practices did not furlough or lay off any of the ODs in the network throughout the pandemic, especially during the period where stores were temporarily closed. "Having that financial and physical well-being was tremendous." In addition, National Vision chose to donate its first round of personal protective equipment (PPE) to frontline healthcare workers in Georgia in March 2020. Once stores reopened, the company provided ample PPE and staffed offices so that optometrists working there remain fully and safely supported, she says.
FEELING SAFE AND WELCOME
Upon returning to National Vision in summer 2020, Dr. Joya was offered the opportunity to float between six stores, all of them within an eight-mile radius of her house. "It was such a nice welcome back," she says. "Getting that job security even during COVID was a wonderful feeling. Plus, I know the America's Best model, so I slid right back into the groove." Her Area Doctor even made sure to have a big welcome back sign to greet her on her orientation day.
Dr. Joya says that she was impressed by the thought and preparation that went into the company's safety protocols. "There's reliability and predictability in the schedule. It feels safe and manageable to me, to the staff and to the patients," she says.
She was also pleasantly surprised at how much she enjoys the float doctor position. "I had floated when I was first hired by America's Best in 2005 for two years," she says, before becoming established in one location. Now, she likes the variety in the schedule, and, to her surprise, has found that patients will follow her wherever she is.
A PATIENT FOLLOWING
"I have a fairly large social media following among my patients," she says. As a mom of two boys, she is actively involved in schools and arts and community programs for kids in her region, and her network of moms is widespread. Two Facebook groups of local moms has a combined network of more than 7,000 people, and Dr. Joya, one of two eye care professionals in the group, is often tagged and asked to share some knowledge about children's vision there.  "A lot of former patients were asking if they could still see me," she says. Some told her that they would call various offices to see when she was there.
That wasn't efficient, she decided. She asked herself, "If I were a patient who wanted to see a particular doctor, how could I have a streamlined experience?" Since so many patients already follow her on her website, drsarahjoya.com, she decided to post her monthly schedule there. Now, patients who want to see her can see which days she is at each of the six locations. She includes the store phone number and its online scheduling link, so that it's super easy for patients to connect with her or with another doctor at that location, if the scheduling doesn't work.
She explains that it's easy for her or another doctor in the America's Best network to pull up patient records, so even if they're seeing her at a different office, the experience will be similar and all information will be available to provide the best care. She also provides patients information on what to expect when they arrive at the location, and she has shared some of the stores' safety protocols on her website.
PART OF A NETWORK
Dr. Joya says that she appreciates being part of a large doctor network. Not only did her colleagues welcome her back to a great professional environment, she knows how much that connection can help newer ODs. "It's nice not to be working solo, worried about something and not having people to bounce ideas with," she says. "The doctor network at America's Best, and across all National Vision brands, is amazing. Guidance and support when you want is it built in through the Area Doctors and the colleagues."
In fact, she says, it was that environment and collegiality that made it so easy to come back.
Building on Diversity Goals
Dr. Sarah Manongdo-Joya can conduct patient exams in English, Spanish and Tagalog. Beyond her patient base, she's also helping National Vision with its diversity initiatives. She's one of three doctors on the company's Diversity, Equity, and Inclusion Council and one of 10 doctors chosen to be 2021 Ambassadors for the National Vision Doctor of Optometry network.