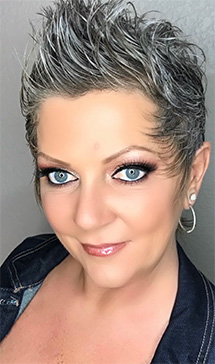 When Gail Galantuomini, OD, graduated from Southern California College of Optometry, she took what was considered a fairly traditional path: she returned to her hometown—Reno, Nevada—and opened a private practice. A few years later, a colleague in Las Vegas who had a lease arrangement with two Eyeglass World locations asked her if she would help him out there. "Monday through Thursday, I worked in my own Reno practice and then I'd fly to Las Vegas and work for him every Friday, Saturday and Sunday," she says. She kept up that pace for two years.
When that doctor left, she was offered the two leases. "Eventually, I sold my private practice and moved to Las Vegas," she says. "I decided to make these practices my whole commitment from that point forward." In 2007, Eyeglass World opened a third location in town, and she took on the lease for that office, too.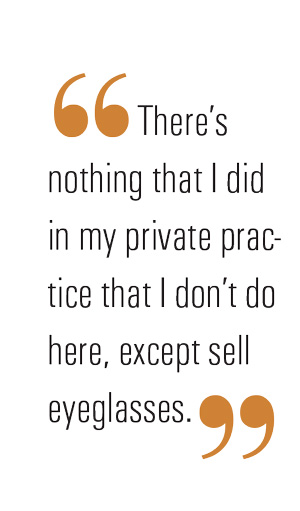 National Vision, Inc., took ownership of the Eyeglass World brand in January 2008, and Dr. Galantuomini says that she has been delighted with the dedication that the company shows to doctors. "A group of representatives came out and took me to dinner recently to celebrate my 20 years with Eyeglass World," she says. That's a small thing, but it reflects the leadership's acknowledgment about the importance of the optometrist, she says.
"There's nothing that I did in my private practice that I don't do here, except sell eyeglasses," she says. "I love this arrangement because I truly enjoy both providing eye care and managing a business." In fact, if the company were to open new stores in the Las Vegas market, she'd be first in line to ask for the leases, she says. While there are some economies of scale with running three practices, Dr. Galantuomini does look at them as primarily individual—each with its core group of doctors and staff. As part of the lease agreement, National Vision provides the major equipment for the exam lane, but all aspects related to practice management and patient care—from hiring optometrists, the phone systems and electronic health records (EHR) to management of the schedule—fall under her oversight.
Indeed, much of that modernization was her initiative when she took over the leases. "The previous doctor handwrote everything, including HCFA forms. In my private practice, I had used an EHR system, so I brought computerization in right away," she says.
Many of the staff members made the move with her, and she says that their continuity made the transition seamless. "Patients knew me, too; they'd seen me there for the past two years," Dr. Galantuomini says.
What hasn't changed is the accessibility that the Eyeglass World locations provide. Open six days a week, Eyeglass World draws patients in with its convenience, ease and affordability. To make sure that she can see those who come in, she keeps slots open on the daily calendar for walk-ins. "We always fill those slots," she says, and that might be one of the most notable differences between her work here and her private practice. "We try to accommodate everyone who comes in," she says.
That includes a number of patients who are drawn by Eyeglass World's retail promotions and advertising who find that they have an expired prescription or need an eye exam. If they choose to come to her practice for those professional services, she wants to help them get what they need conveniently. "It's a benefit to patients to be able to have their eyes examined and order their contact lenses from my practice or their eyeglasses from Eyeglass World, all in the same visit. While the retail store and my practices are separate businesses, I know that it's good for the store when I can update a patient's prescription. And it's good for my business when Eyeglass World advertising makes people think about their eye care needs. All in all, this lease arrangement with National Vision fulfills all my goals
as an optometrist."