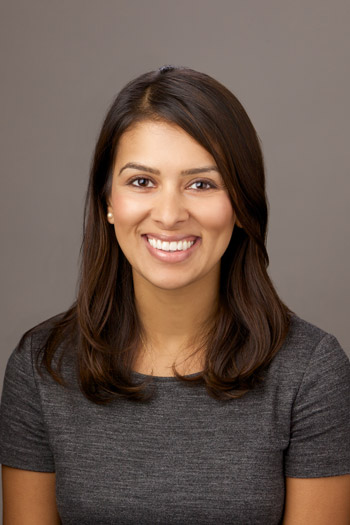 When Priti Patel, OD, was completing her residency after graduating from optometry school, "no way did I think I would switch gears to focus on anything other than direct patient care," she says. But she quickly found that the profession is filled with unexpected opportunities.
Dr. Patel was recently promoted to become National Vision, Inc.'s vice president of physician practice management. "I am the
liaison between the company and the eye care providers, developing resources and making sure that the regulatory aspects are understood and followed."
Dr. Patel isn't entirely new to the National Vision family. For more than seven years, she was a vice president at FirstSight Vision
Services, the company's California subsidiary. She came to that position from a role in professional services with another corporation. "Moving from patient care to corporate America is a big leap, but I was looking for something different for personal growth. For anyone who wants to do that, my advice is to find a good mentor and listen and learn from everyone you talk with," she says.
What she's doing now isn't clinical practice, but she sees herself as not too far removed from patient care. "What I do affects a lot of people. As a practicing OD, I knew the impact that I was making with each patient encounter. I could witness the gratitude on a child's face with that first pair of eyeglasses," she says, noting that's a rush that's hard to beat. "But now I see that what I do can potentially assist all optometrists in our network who have encounters with thousands of patients. I'm keenly interested in hearing what
ODs need to be able to serve their patients better," she says.
A Diverse Profession
Optometry is a growing profession and catching more eyes as a career option. "I'm encouraged by how diverse the profession has become over the last few years. The trend is not only variety in ethnicity and race, but also gender. Women in particular are making more of an impact on the profession, especially in primary care, specialty care and industry roles," says Dr. Patel.
She believes that a reason for the increase in diversity is the benefits that come with being an optometrist. "Optometry is a great option in the medical field. We get to impact lives positively, as well as have a career that fits our lifestyle," she says, noting that optometrists who practice in the National Vision Network enjoy flexibility and the ability to choose a mode of practice that suits them.
Opportunities for all
Dr. Patel's role is a testament to the company's focus on its relationship with optometrists, she says. "National Vision has always been committed to the optometrist. The company has invested heavily in OD satisfaction, and it continues to get better," she says. "We're providing more resources and including optometrists on the executive and professional services teams. It demonstrates that optometry is at the heart of the business."
With those kinds of developments, doors open for optometrists to explore career options. "When I first joined corporate work in 2005, it was not well known as an option. But over the past decade, there are more ODs in leadership positions," she says. "It's worth a look. If you have the opportunity, be willing to take the risk. For me, the guiding rules have been that I need to align with the company, its people, its culture and its future."