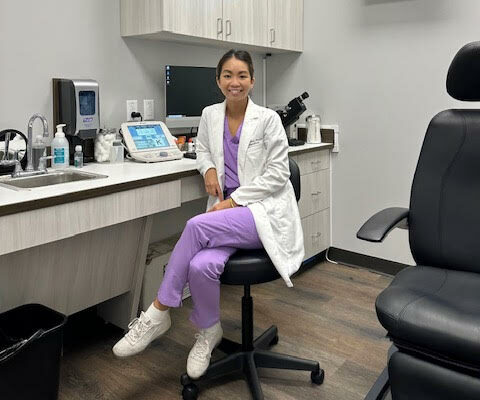 When Paulina Hor, OD, (pronounced "Or") had her first child—a baby girl—in September 2022, she expected her days to get even more hectic. Instead, her employer, Gulfview Vision Associates, an independent medical practice affiliated with the National Vision Doctor of Optometry network, made her feel even more valued—and less stressed.
Gulfview operates multiple offices across the Gulf Coast of Florida, next to America's Best Contacts & Eyeglasses retail stores. Prior to joining Gulfview in the spring of 2021, she had been with other Practices affiliated with the network since her 2017 graduation from Salus University.
In August 2023, she relocated to a brand new office just a little to the north in Clearwater. Had she not had her level of practice experience after the birth of her baby, a move to become the primary doctor in a new location might have overwhelmed her. But because of the encouragement from her practice, Dr. Hor was confident that she could make the move and count on the supportive infrastructure of the National Vision network.
ALL ABOUT THE CULTURE
Her interest in the National Vision Doctor of Optometry network peaked soon after graduation when a recruiter—who was also an OD—told her about the team morale within the network. A flight to Florida to visit the practice proved to Dr. Hor the overall commitment to supporting doctors. "The leaders weren't just trying to fill a position as quickly as possible. They wanted someone who would fit in," she says.
She now has a great relationship with many members in leadership positions in both her practice and at National Vision, she says. Her Area Doctor at her practice, Stephanie Hubbard, OD, always encouraged her to work at a comfortable pace and put her family and baby first. Her former Area Doctor, the late Allyce Reetz, OD, was like a "mentor" to her when she joined her first practice in the network after graduation, she says. "She made a huge impact on me when I didn't know what to expect in the 'real world' as a recent grad," Dr. Hor says.
When Dr. Reetz tragically passed less than six months after Dr. Hor joined the practice, Dr. Hor says that practice and National Vision leadership "came to visit us to make sure we were all okay. I still talk to Fazeela Karim, OD, who took over after Dr. Reetz, and National Vision Director of Store Operations Kyle Barnett. They always had my back and still do."
FINDING BALANCE THROUGH SUPPORT
The opportunity to work at her practice's Clearwater office came just at the right time as it is closer to her home. She can drive home during her lunch break to spend time with her daughter. Another bonus about her practice is that she doesn't have to worry about a thing in the office while she's gone.
"My main priorities are seeing patients and getting home to my family," she says. "The National Vision team handles all the optical staffing, referrals, insurance, payroll… I never take work home."
The new mom says she had heard horror stories of her college classmates having babies and then being pushed to return after six weeks or not having time during the day to pump or take a snack break, something she says she "never" had to deal with.
"As a working mom, I sometimes feel guilty about not being there with my daughter," Dr. Hor says. "The support from my practice and National Vision has made such a difference."
And after five years with the network, work is a comfortable part of every day. "The people at National Vision make the company what it is. I don't plan on going anywhere."
To view more WO stories from National Vision, click here.