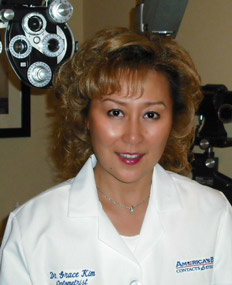 As a student, Dr. Kim's interest in research was strong, and she spent five years as a research biologist with the Uniformed Services University of the Health Sciences in Bethesda, Maryland, but she also admired her mother's career as an MD. "So I chose optometry," she says. After graduating from Pennsylvania College of Optometry in 1999, she began working in a multilocation optometry practice but missed the ability to do research. She was offered the position as chief of optometry at George Washington University in Washington, D.C., but when she heard that National Vision was developing a clinical panel, she realized that role could blend both of her passions while allowing her to develop leadership skills. "This career pathway opportunity was a pleasant surprise to me," she says.
As chairperson of the clinical panel, Dr. Kim serves as the one permanent OD member of the panel. Nine other National Vision-affiliated ODs serve one-year terms. To be selected, ODs must turn in an application and recommendation. "We look for qualified
and motivated ODs," she says. There are 950 National Vision offices, with about 1,800 ODs affiliated with the company. "Rotating
positions annually helps more people become involved and keeps our perspective fresh and innovative," she says. It's no easy task to
make the selections; Dr. Kim receives about 50 or 60 applications from interested doctors each year for the nine slots.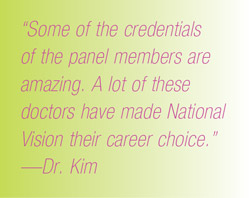 The applications include questions about doctors' areas of expertise and experience. "There are so many talented doctors, so I look
for a balance of those who have research backgrounds or those who have experienced writing clinical protocols or in other areas," she says. There are occasional openings throughout the year, as clinical panel members cannot serve in another leadership position, such as an Area Doctor. So if a doctor takes on one of those roles, he or she resigns from the clinical panel. The panel members conduct trials of new contact lenses and equipment, as well as work on revisions of standard operating procedures and other manuals. "Members can also help doctors with peer reviews and orientations for new hires. During the 10 years that I've been involved, I've seen many doctors
author or co-author presentations on topics covered," she says. Some of the equipment that studies have been conducted on includes fully automated lensometers, high-contrast computerized vision charts, all-in-one autorefractors/phoropters, portable tonometers,
illuminated phoropters and fundus cameras.
Recently, the panel was involved in testing multiple brands of contact lenses to determine what would become the primary contact lens brands offered at National Vision locations. "We ran an extensive clinical trial and, based on the data and the feedback, we made our decision on spherical, toric and now one-day contact lenses to recommend primarily. I presented the results to more than 1,000 doctors, and I believe that hearing the extent of the trial that supported this decision made an impact," she says.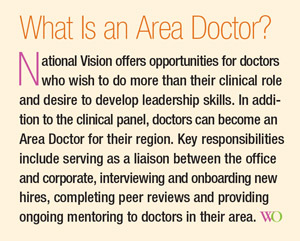 Dr. Kim says the clinical panel is one of those features that is both good for the individual doctors and for the organization. The work of the clinical panel allows doctors to be more efficient, whether that's the result of new technology implemented or new products or procedures introduced. It shows, too, how National Vision has evolved as a listening organization, she says. "Great leaders don't simply command. Great leaders listen," she says. "The CEO, president and senior VPs of the company are approachable and clearly demonstrate a caring attitude for doctors affiliated with the company." For example, National Vision invites all affiliated doctors to gather each summer to receive 22 hours of CE, at no cost to them. "More importantly, it gives all the doctors and corporate leaders a chance to interact. Doctors are eager to present new ideas along with their wants and needs in their offices. Ultimately, their ideas and recommendations for new products and equipment will be passed down to the clinical panel to test them prior to implementing them across the board."
The panel also provides ODs with an opportunity to step out of their traditional role in the exam lane. "Some of the credentials of the panel members are amazing. A lot of these doctors have made National Vision their career choice, and serving on the panel is a way
that they can advance their expertise in an area or challenge themselves in another." For example, the panel will soon start working on rewriting the optometric technician manual. "We're constantly updating, revising and improving our manuals and guidelines. This is helpful because better manuals will result in better training, and our technicians are our right hands. National Vision recognizes the most important relationship we have is with the tech, so in addition to clinical panel members working on the training, National Vision gives all doctors the ability to participate in interviewing and hiring their tech, so each office can have a cohesive, successful team."
Dr. Kim says that she encourages ODs to apply for the clinical panel positions. She reads each application and has even guided some applicants to apply again in the future or for another leadership position within National Vision. "I feel privileged to be in this role. I have a hand in making sure that we are identifying the best products and the best results for our patients, based on our own research," she says. "It's a unique opportunity, and has been a great choice for me. I encourage others to be open to working for National Vision as it provides great career path advantages."