There is a world of difference between working in clinic while you're a student and being alone as the optometrist in charge once you've taken on a professional position, says Kristen Burkholder, OD, of Columbus, Ohio.
Dr. Burkholder, who graduated from Indiana University School of Optometry in 2011, joined the National Vision, Inc. Doctor of Optometry network the following February as a fill-in OD, picking up days in several offices in the Columbus area. Then she became
full time, working to provide coverage throughout the region. Now, she's at one office working for Buckeye State Optometry Associates, a practice affiliated with America's Best Contacts & Eyeglasses. Along with the primary responsibility of patient care, she also took on her predecessor's leadership role as Area Doctor.
In that role, she helps onboard ODs new to the network, checking in with them regularly as they begin. She wishes the program
had been available to her when she joined and is glad to see the increased focus on optometrists' needs by corporate leaders. "For
new doctors, the main challenge is worrying that you'll be left on an island. Unless you know other doctors in the area, the ability
to get quick answers isn't always there. This program alleviates those concerns," she says. She enjoys bringing newer optometrists
together so that they can ask her and each other their questions. "I'm there as a point of contact. I'll help them find the answer," she
says.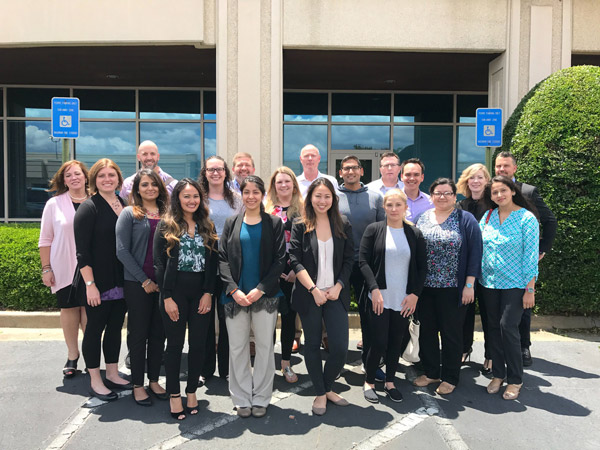 Corporate optometry is a mode of practice that Dr. Burkholder didn't even consider at first. "I hadn't envisioned that I would stay affiliated with National Vision long term. Coming out of school, I didn't realize what options would be available, and I didn't know that there were options beyond direct care. But being part of this network, I've been able to do what I love—care for patients—as well
as the added bonus of growing as a leader and helping others grow, too," she says.
The steps that National Vision has put into place since she started have helped optometrists transition into their roles more successfully. "As an Area OD, I'll take a new doctor to the office and show him or her where everything is, in both the exam lane and the optical. That's important. Optometrists know how to perform exams; it's the charting and simple things, like where the contact lenses are, that can throw you off stride. Our training sets all ODs up for success in our setting."
Dr. Burkholder's goal is to help ODs find their groove so that they can help fulfill the organization's mission of making eye care affordable and accessible to all. "We have three offices in Columbus, and we routinely have patients who come in who don't have the means to pay for their eyeglasses elsewhere. We want to provide services for them and their children so that they all have the ability to see, allowing them to perform their best," she says.
Even though finding symptoms of disease is fairly common, it's still surprising, she says. "It is amazing to me how many patients don't have a primary care physician. So often, we're the first ones who suspect disease. If they have insurance, we can refer them to
medical practices of our choice. Columbus is a large enough city that we also know the avenues of care where we can send patients who don't have insurance."
That's the part of her career that brings her joy. "Patient care is my passion. I have a great support system with the general manager who makes sure that the day runs smoothly in the optical and that my exam flow is going well. That support allows me to focus purely on my patients and make sure each one leaves that day feeling a little better."