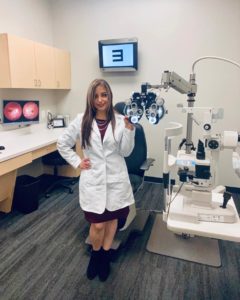 It's easy to spot a workplace where employees are unhappy. Whether she was working in private practice or corporate locations, Mary Fazelian, OD, has seen her share of that: dreary offices and miserable employees, whose negative attitude often rubbed off on the patients and customers. When she joined National Vision, Inc. over a decade ago at America's Best Contacts & Eyeglasses in Chicago, Illinois, she refused to let that be her legacy. She found that National Vision does things in a different way–and in her opinion–a better way.
"National Vision provides me with everything I need and more to have a fulfilling career," Dr. Fazelian says. "I would have left long ago if I weren't happy." She appreciates the level of support she receives from the National Vision Doctor of Optometry network and has found that the company shares her passion for doing what they can to help everyone: patients, customers and eye care professionals alike.
"I'm so glad my path led me here," she says. "National Vision works hard to make sure that I as an OD am happy."
LIVING YOUR BEST LIFE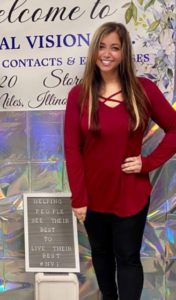 Dr. Fazelian is active on LinkedIn and often shares personal stories and motivational content with her more than 6,000 followers. Her goal is to inspire people to live their best lives, which she says people can do without sacrificing their own sanity. Providers are people too, she says.
"Netflix, pizza and chocolate," Dr. Fazelian recommends to anyone looking to unwind. She says the all-too-common stigma around mental health and burnout doesn't seem to exist at National Vision, and that her managers would rather someone take a personal day than come to work and be unhappy or unproductive. "They have a genuine desire to help people, and that extends to making sure the providers are cared for," she says.
Dr. Fazelian also enjoys connecting with nature and visiting the shores of Lake Michigan to unwind, which her job provides her with time to do. "I can provide exceptional care without needing to take work and worries home with me," she says. "I can focus more on self-care and my family."
Whatever kind of support Dr. Fazelian needs–whether it be administrative, business-related or something more personal– she says that National Vision is there. "National Vision allows me to practice full-scope optometric care," she says. "The company supports me in every way but provides me the freedom to do what I feel is right for my patients."
FINDING SOMETHING TO CELEBRATE
Dr. Fazelian makes it a point to celebrate all staff birthdays and achievements in the office, no matter how big or small. "You have to find something to smile about every day," she says. "It's your job as a care provider to do what you need to do in order to be the best for your patients and your staff." That means being kind to yourself as well, she says. "Take a bath, do a face mask… whatever it is that helps you come into the office with a smile on your face."
"It is an exceptional place to practice," she says. She specifically mentioned the support she receives from her District Manager Fazeel Karim, Area Optometrist Danny David, OD, Regional Clinical Director Deanna Paul-Blanc, OD, Director of Clinical Training and New Doctor Experience DeAmbra Boucher, OD, and Senior Manager of Communications Carly Schenck.
Dr. Fazelian also recently took on a Clinical Preceptor position and is "so excited to share my heart with my students." She plans on extending the same National Vision level of support, knowledge and encouragement in order to foster a stimulating learning environment and get the next generation of ODs eager and ready. "Life is too short to work somewhere that doesn't give you the support that you deserve," she says. "We're all trying to make life the best experience it can be, so let's all work together to make that possible."