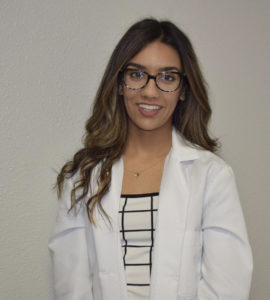 Priya Kaura, OD, came to the U.S. from Canada with one goal: providing eye care in places where it is not easily accessible. The Canadian health care system provides access to vision services and products, and she embraces the idea that vision care is a fundamental, primary care service. Dr. Kaura wanted to bring the same level of care to areas of need in the U.S. and help alleviate the lack of accessibility.
Before graduating in 2019 from Nova Southeastern University College of Optometry, she had imagined that she would open a private practice, just as many of her classmates were planning to do. "I felt that I could set an affordable price range on eye care services and create more intimate relationships with patients in a private practice setting," she says.
Yet, she was intrigued by an offer to work for PacificWest Regional Eyecare, P.C. at an office inside a Vision Center Brought to You by Walmart in Tulare, California. This particular Vision Center is operated by National Vision, Inc. She discovered that this setting gave her an excellent opportunity to fulfill her philanthropic goal of providing accessible, affordable quality care.
"Most aspiring and practicing ODs think that private practice is the way to go, but it's a preconceived notion. At my practice, I can provide the same level of eye care to my patients at a more affordable cost than other settings," she says.
HAVING A SUPPORT SYSTEM
For most of the first year, Dr. Kaura dove into the routine, seeing patients and talking about the importance of annual comprehensive eye exams with the community and even with staff members at the Vision Center. As she became more confident and comfortable with the daily flow, she was ready to take on the new challenge of becoming an Area Doctor for PacificWest in her region, which has 22 doctors across 15 locations. As someone who enjoys networking, she was delighted to create relationships beyond the exam room and strengthen her leadership skills.
As an Area Doctor, she has an active role within the doctor team, answering questions, managing scheduling and maintaining high-quality patient care. Although the pandemic prohibits Dr. Kaura from making frequent in-person visits to these offices, she makes weekly calls to individual doctors and sends monthly emails to the entire doctor team. "I ensure that the doctors are performing to a high standard and check in with each location to answer questions, provide help and help new doctors adjust," she says.
Not only have her leadership skills developed, but she has also found herself learning new clinical and management skills. "I went into the position with the mindset that I'll be helping the doctors in my area, but it's actually a team learning experience," she says.
"I wasn't aware of the different career opportunities within my practice and the overall National Vision Doctor of Optometry network, but after seeing fellow ODs and myself in managerial and executive-level positions, it showed me that there are many career options beyond the exam room," Dr. Kaura says.
REACHING A BROADER PATIENT POOL
The easy accessibility and open location of her office in the Vision Center allows Dr. Kaura to serve more members of her community. Due to the COVID-19 pandemic, many practices have reduced or do not offer walk-in appointments, but her location works hard to accommodate all walk-in patients. "We're finding that patients who had deferred their eye exams are now returning to us while they're running errands. It's comforting for them to know that they can be seen on short notice," Dr. Kaura says. That flexibility increases eye care accessibility and allows the practice to help more patients.
A corporate-affiliated environment has also allowed Dr. Kaura to offer eye exams at an affordable price, which has enabled her to see patients who otherwise might have passed on vision care. "We had a Walmart associate stop by who had never seen an optometrist before. He decided to come in after he noticed that we had a doctor available for a same-day appointment at an affordable cost. I diagnosed a retinal detachment and sent him out immediately to preserve his vision. I am thankful we were able to provide critical care when he needed it most," she says.
SPREADING VISION CARE TO MORE PLACES
Dr. Kaura says that being located at a Vision Center allows her to be in a position where she can fulfill her goal of providing eye care to people who hesitate on vision care due to access and cost barriers.
"I'm able to practice at the highest scope of my licensure here. At the end of the day, the scope is the same between ODs practicing in private practice and corporate-affiliated practice. We have the same resources and same connections as other health care professionals to provide diligent and utmost care to patients," Dr. Kaura says.