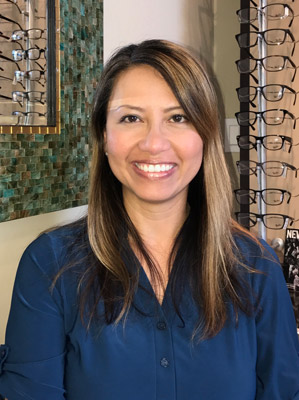 Jasmine Nguyen, OD, had never sold products beyond contact lenses and eyeglasses in her San Diego, California, practice. After all, her location is around the corner from a Walgreen's, so most patients would anticipate paying less or having more of a selection there.
But that changed recently after a visit to the Natural Ophthalmics booth at a conference she attended. "I happened to stop by and picked up a sample of the Tear Stimulation Forte drops," a homeopathic tear that provides immediate relief while also stimulating eyes to produce more tears, she says. "My eyes are dry, and I've found it hard to find artificial tears that work well and don't have preservatives. I liked it so much, I got an extra bottle for my husband," she says.
She also decided that she'd try selling it in the office, since the professional quality, preservative-free drops are not for sale in the pharmacy around the corner. "I decided to do a small order, and I sold out right away. The second time, I placed an order for 80 bottles, and that sold very quickly, too," she says. What she discovered was that patients told her they appreciated the convenience of being able to take care of everything eye-related before they left the office. "Instead of having another errand to do, they liked buying it here. I also find that many patients will buy more than one bottle now so that it lasts them a little longer."
In fact, Natural Ophthalmics' Tear Stimulation Forte and Women's Tear Stimulation drops have become her first-line treatment for patients with symptoms of dry eyes. They like it for all the same reasons she does—primarily because it works well, feels good and is an affordable, effective treatment.
"A lot of my patients don't have insurance or their insurance doesn't cover the cost of artificial tears. The cost of the Natural Ophthalmics products is low compared to prescription products, so it's a good place to start all patients who complain about dry eyes regularly or even just from looking at the computer or devices too long," she says. It's helped her turn a number of patients away from over-the-counter ocular vasoconstrictors. "I instill a drop while the patient is in the chair. Most immediately comment that it's so refreshing and there's no burn."
In fact, she and her husband have both become regular users. "I keep bottles of Ortho-K Thin drops in my car, in my purse and in my night stand. I think the Ortho-K drop is perfect when someone has eyes that are dry and scratchy. It seems to promote healing quickly," she says, noting her candidate pool for these drops goes far beyond her ortho-k patients. "My 8-year-old daughter uses this, too, with her ortho-k lenses. I dispense it to my ortho-k and contact lens patients," she says.
Dr. Nguyen says she introduced it to the staff and the two other ODs in the office by encouraging everyone to try the drops for themselves. They all agreed that the comfort improvements were noticeable. To help spread the word to patients, she's placed pamphlets in the exam rooms and a copy of Natural Eye Care and You, the consumer publication about natural eye care, in her reception area and the exam room where patients often browse through it.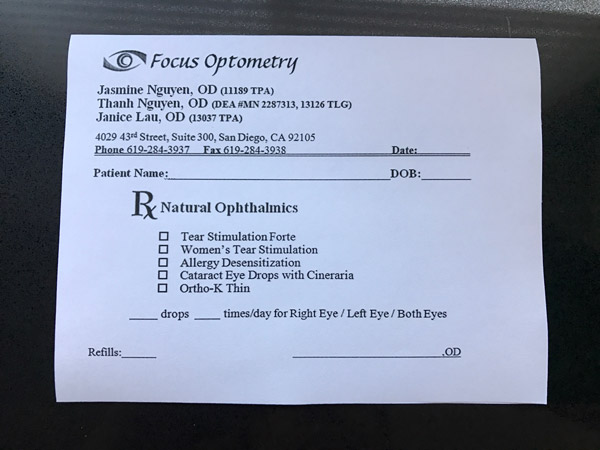 In addition, the office has created a tearoff pad with names of the Natural Ophthalmics products it sells. "We circle the products we're recommending so that it looks more like an Rx. We note on there how many drops to use and how often. Then the staff at the front desk sees it and can answer any more questions. The person checking out the patient might say, 'Now that you have the bottle, I can put that slip in the front of your chart so we'll know next time what products you're using.'"
Dr. Nguyen has had such good success with the tear stimulation drops that she is adding the allergy products from Natural Ophthalmics to her order. "I didn't expect it to go this well," she says. The quick stop at an exhibit hall booth has turned into a new revenue and referral source for her practice, and it has provided a valuable and appreciated convenience for her patients.