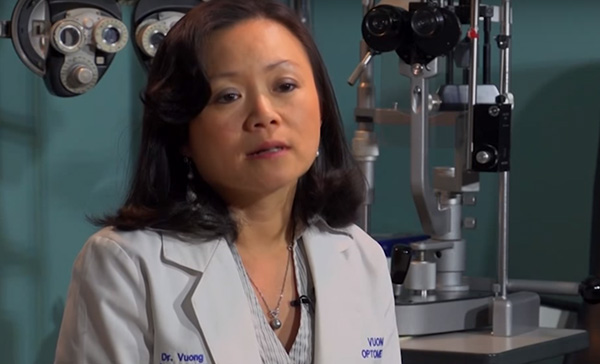 Connie Vuong, OD, of Garden Grove, California, is a label-reader. Her own children and her husband all suffer from allergies and eczema, so she's careful to look at the products she buys in case they trigger reactions in her family. When she came upon a Natural Ophthalmics booth at a professional meeting, she stopped and asked the company's president Brian Banks a lot of questions. "I'm very much into the research, so I wanted to hear more about homeopathy and natural ingredients," she says.
She was convinced enough to try the products, and eventually she began replacing the other products she had on her
shelves with Natural Ophthalmics products instead. She has several groups of patients, all with distinct interests or needs, who are very
happy to purchase their natural eye drops at her practice.
Dr. Vuong, a graduate of Pacific University College of Optometry, has a busy orthokeratology practice; many parents are willing
to invest in the option to try to control their children's myopia.
Dr. Vuong appreciates that Natural Ophthalmics has products that can help make lens removal and the wearing process more comfortable for some patients. That can lead to greater compliance and better results.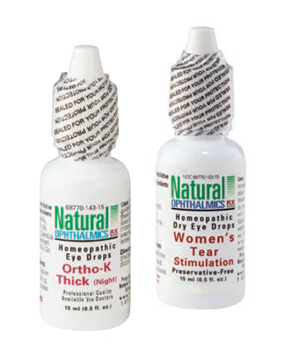 She has grown the ortho-k practice over the years. "We use either the Ortho-K Drops or the Tear Stimulation Drops. These
cushion the surface of the eye so that it feels moist and smooth," she says. "Then we have the patient put on the lens—and because
of the drops, we don't hear many complaints about the comfort."
When patients choose to pursue ortho-k as their treatment, Dr. Vuong puts a bottle of the Ortho-K Thin Drops into the packaging as a gift. "I want them to start using it as soon as they get home, and then they have developed that pattern. If they wake up and their eyes feel dry, they'll get used to putting in a drop. And they get in the habit of using a drop before inserting the lenses at night," she says. When that first bottle is used up, these patients return to buy more.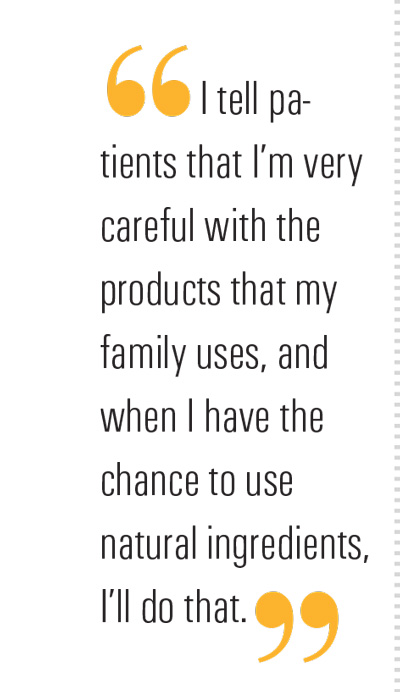 Another group of users is women who suffer from dry eyes. They like the preventive nature of using the Tear Stimulation Forté Drops or the Women's Tear Stimulation formula, and they like knowing that the products are natural. Unlike lubricant artificial replacement tears, Natural Ophthalmics drops work therapeutically to stimulate the eyes to moisturize with their own mechanisms.
The Allergy Desensitization Drops are also popular—with her own family as well as her patients. "We don't have our symptoms of ocular allergies anymore," she says.
In fact, her own family's experience has been part of her presentation to patients. "I tell patients that I'm very careful with the products that my family uses, and when I have the chance to use natural ingredients, I'll do that. 'It's your choice, and I can write
you a prescription, too, but for my family, this is what I use.'"
Dr. Vuong has learned that she needs to keep fairly high quantities of Natural Ophthalmics products on hand. Periodically,
members of the community who are returning to Vietnam or elsewhere to visit family come and buy six to 12 bottles of Natural Ophthalmics formulas to take with them. "I've learned to keep a few bottles hidden so that we still have a small supply for a patient
who wants one or two bottles before the next shipment arrives," she says.
She finds that once patients have a chance to see for themselves how effective these products are, they'll choose to stay with these natural eye drops. For many patients, it's a great place to start their treatment regimen. If they need additional intervention, Dr. Vuong can help them; but when the drops resolve the issue and increase their comfort, they become very loyal users.