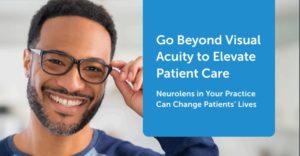 The first step toward determining which patients are actually candidates for Neurolenses patented contoured prism lenses is to ask them a series of standardized questions. This can be accomplished either face-to-face or virtually in advance using the newly released electronic lifestyle index from Neurolens. In more than 80 percent of wearers, Neurolenses
can alleviate the common symptoms that result from staring at screens for hours at a time – incessant headaches, neck and back pain, and of course, dry and irritated eyes.
Neurolens has issued an eight-page report – Go Beyond Visual Acuity to Elevate Patient Care: Neurolens in Your Practice Can Change Patients' Lives – which is filled with tips and strategies on how to raise awareness and help integrate Neurolenses into a practice successfully and efficiently.  The report covers screening all patients, gaining referrals, getting staff buy-in, educating patients with the Neurolens story and ways to manage the handoff.
The results of successful implementation of this technology can be an immediate boost to the bottom line. Patients appreciate the full refund that the company offers, which minimizes their risk and therefore can maximize their results and satisfaction.
Download Go Beyond Visual Acuity to Elevate Patient Care to read how others have used the Neurolens Measurement Device and the lenses themselves to identify and help more patients.