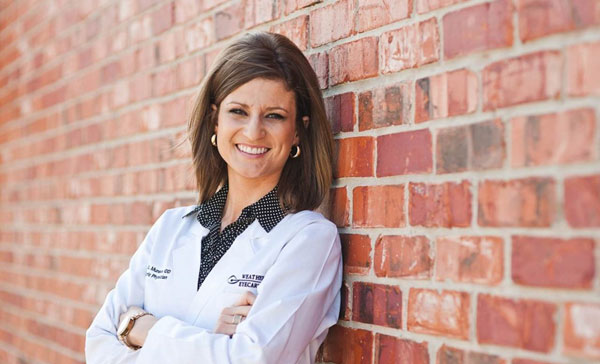 By Jaclyn Munson, OD, FAAO
Differentiation is critical for an optometric practice to flourish. Over the past few years, we have refocused our optometry practice to be patient experience-centric and wellness-centered. In this process, we added technology that enables us to deliver expanded optometric services and enhanced care.
We have unified the practice into three areas: preventive care, the Vision Performance Center of Fort Collins, and the EyeSpa. Our focus across all three areas is to protect a culture of wellness and prevention and to shine light on the root cause of potential problems more accurately and efficiently.
Every patient who comes to Fort Collins Family Eye Care is asked to complete a series of surveys, such as a nutrition survey, a revised Standard Patient Evaluation of Eye Dryness (SPEED) questionnaire and a neurolens Lifestyle Index questionnaire from eyeBrain Medical, Inc. The Lifestyle Index asks about eye strain, headaches, neck pain and other symptoms. Patients' responses to these various screening surveys determine which tests will be performed when they arrive.
Role of Technology
Technology continues to play a role in treatment in all three practice areas. For example, patients who have been identified through our screening and diagnostic process as having dry eye or meibomian gland dysfunction can come to the EyeSpa for advanced LipiView II meibomian gland imaging, vision break-up assessment, BlephEx biofilm removal and Pellevé radio frequency treatment of the meibomian glands and collagen production around the delicate skin around the eyes.
Using the neurolens Measurement Device actually speeds up the dry eye diagnosis process because it helps us distinguish between pseudo or phantom dry eye and true ocular surface disease (trigeminal dysphoria vs. ocular surface disease). Symptoms of late-day discomfort and eye strain are common to both dry eye and other conditions. In the peaceful retreat of the EyeSpa, we also provide a range of skin care, eye nutrition, and brow and lash treatments.
In the preventive primary care practice, I often prescribe therapeutic neurolenses® to address the patients' calculated visual misalignments. What makes neurolenses unique is that they are the first and only prescription lenses that add a contoured prism to address binocular misalignment at all distances.
When the eyes are not aligned, the visual system works constantly to compensate for the misalignment, overstimulating the trigeminal nerve. This can cause eye strain, headaches, neck pain and other symptoms known collectively as trigeminal dysphoria. In one study, 93 percent of people who purchased neurolenses reported a reduction in symptoms.1
Finally, in the Vision Performance Center, where we offer vision therapy, vision rehabilitation and sports vision expertise, we rely on several different technologies to evaluate the functional skills needed for optimal visual performance.
Return on Investment
It is important to measure the financial impact of any technology investment. In my practice, the neurolens Measurement Device paid for itself. In just six months, we yielded more than a $40K profit in lens materials, not including the profit from eyewear frames and follow-up evaluations billed to most medical insurances. Revenues and profits have been in line with or exceeded expectations based on national sales data (Table 1).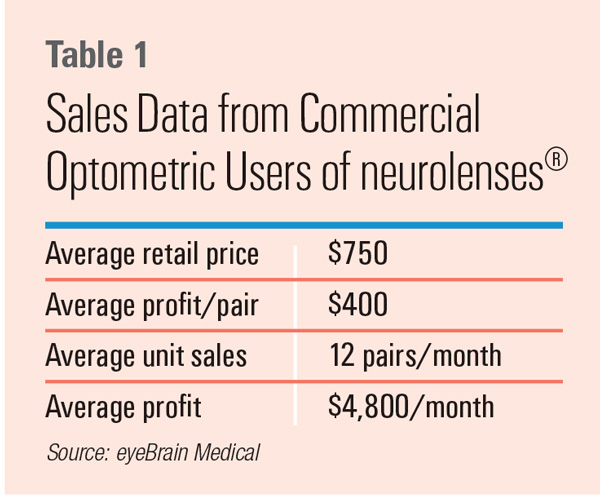 Evaluation and treatment of eye misalignment have increased the practice's capture rates. The therapeutic effects of neurolens, for example, are exclusive to private practice. Our level of expertise and quality control distinguishes us from online retailers and others offering only basic eyewear.
More important, though, has been the impact of our approach and our technology on patient satisfaction and referrals. More  than 50 percent of our daily patients are symptomatic and potential neurolens candidates. I ask patients to advocate for others in the community who may suffer from similar symptoms. I personally ask them to empower those circles of colleagues who are like-minded in preventative care. For that reason, I think the investments we have made in advanced technology and the time we spend to screen and evaluate patients thoroughly are well worth it. Not only do some of these technologies instantly generate revenue, but they also elevate the level of care we strive to provide with our commitment to wellness and visual performance.
Reference:
1 Survey of 360 neurolens patients after 45 days of treatment. Data on file, eyeBrain Medical.
Dr. Munson practices at Fort Collins Family Eye Care in Fort Collins, Colorado. She is the founder of Colorado's Dry Eye Society. She is a consultant to Oasis Medical and eyeBrain Medical. Contact her at fcfamilyeyecare@gmail.com.