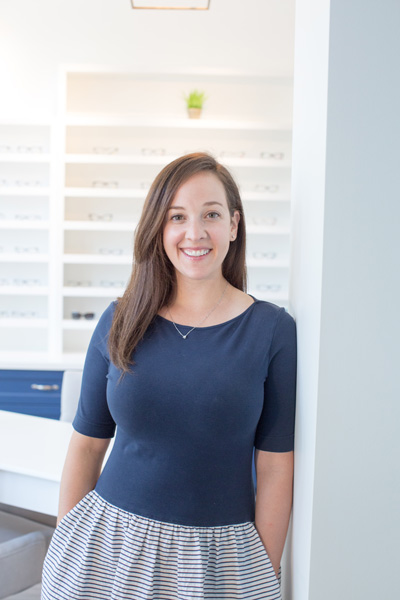 Jennifer Kohn, OD, of Moses EyeCare Centers in Northwest Indiana
Despite having spent childhood family vacations at annual Optometry's Meeting site locations and state optometry conventions, Dr. Kohn didn't make up her mind to become an optometrist until she shadowed ER doctors as an undergraduate. That option didn't provide the kind of connection she wanted. "I wanted a profession where I could sit down and get to know my patients," she says. "My dad [Robert W. Moses, OD] was excited when I told him I was going for an optometry school interview, but he was a bit surprised," she adds, laughing.
Dr. Kohn joined her father, two brothers and the team at Moses EyeCare Centers following her 2008 graduation from Indiana University School of Optometry. There were four offices in the northwest Indiana region then, and in the decade since she joined, the business has grown to 11 locations and 13 doctors. Dr. Kohn says that she saw the need for a management and leadership plan for a large and growing team that is 95 percent female. "We have some really amazing women with leadership skills," Dr. Kohn explains. "I've found that I love setting up structure, and it's empowering to instill confidence by having key people taking charge of what they do best."
Team members understand their responsibilities, established by clearly stated protocols and guidelines. "They know that if they don't do their part, we can't do our best," she says. Promote department leaders who embrace the mission, she says. "There's a trickle-down
effect." The result has been profound, as these empowered staff members provide stellar care for patients.
Dr. Kohn started her term as a trustee for the Indiana Optometric Association (IOA) in April 2019. With two IOA colleagues, she started YOLO (Young Optometrist Leadership Organization), to help those graduates of the past 10 years by providing social gatherings. These events are a chance to share questions and advice and keep connected with peers and the profession. "This is more than just a career—it's a profession and a community, and you get what you give." She says that she's honored to receive this recognition from the American Optometric Association and thankful to her family and staff for their support. Her advice to new grads: Don't be afraid of great opportunities that are presented to you, she says. "By saying yes, you are staying involved, and the benefits and rewards will grow."