The Contact Lens Institute (CLI) has published its highly anticipated report examining U.S. consumer beliefs and behaviors influenced by inflationary pressures. The organization's analysis affirms the immense value that patients place on their vision and contact lenses, correlated with strong category purchasing power and spending. It also reveals several contact lens-related behaviors that may change with personal financial challenges and advises the eye care community to proactively address these potential shifts.
"Remarkable Resilience: Prescribing Contact Lenses in a Challenging Economy" is now available for online review or as a free, 12-page download from SeeTomorrowNow.com. The report is part of CLI's See Tomorrow initiative, which explores consumer perspectives surrounding issues that can influence contact lens fitting and wear. The latest work polled 2,439 U.S. adults ages 18 and older from August 9-17, 2022, with 251 active contact lens wearers answering a series of detailed questions.
In mid-September, CLI provided a sneak peek of select poll results during Vision Expo West. Findings included that respondents ranked their contact lenses (84%) and eyeglasses (75%) as extremely or very important—the highest scores among 26 categories of goods and services. When asked about how inflationary pressures had altered household spending, contact lenses (8%) and glasses (7%) exhibited the least change.
The full report dives deeper with detail on every category, including which they would abandon completely or purchase less frequently before giving up their contact lenses. Notably, 94% of contact lens wearers indicated they would make sacrifices in other areas first. In another test of perceived value, wearers said they would more than double what they're currently paying before giving up their contacts altogether.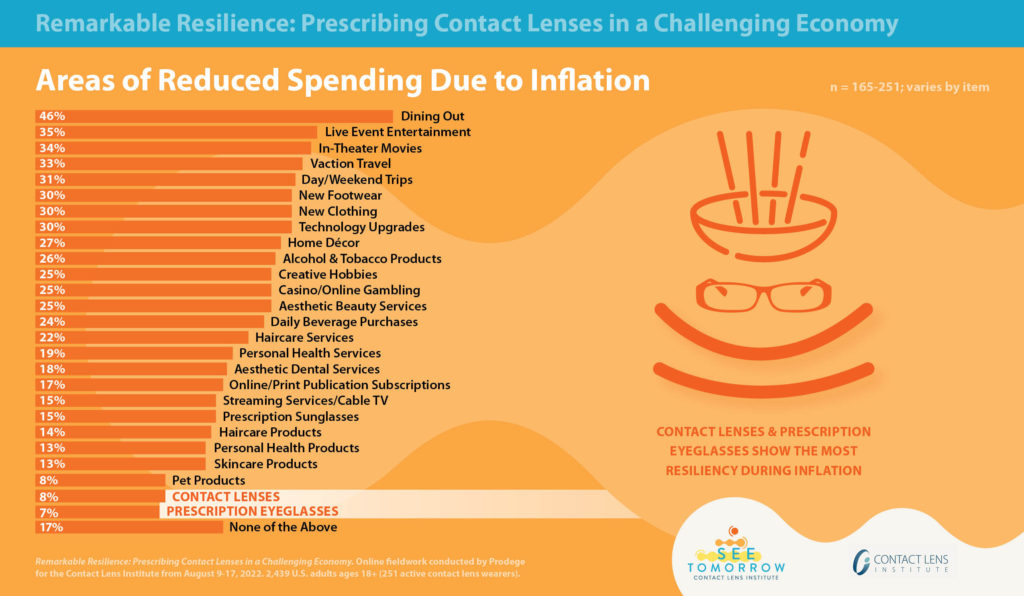 "What we observed affirms the instincts of many practitioners and business leaders, i.e., that contact lenses offer significant value, and provides even more confidence for continued fitting. Americans deeply value their eyesight, and their intended and actual spending reflects those beliefs," writes Stan Rogaski, CLI's executive director, in the report's opening letter.
Eye care professionals should also be alert for financially triggered behavior changes that could put eye health at risk. The findings indicated that about one in four people may seek less expensive options in the face of financial pressure, whether online (27%) and/or through their eye care professional (26%).  Risky behaviors included wearing their lenses for more days than approved (24%), "topping off" cleaning solution (12%), and using less cleaning solution when rinsing and storing lenses (11%).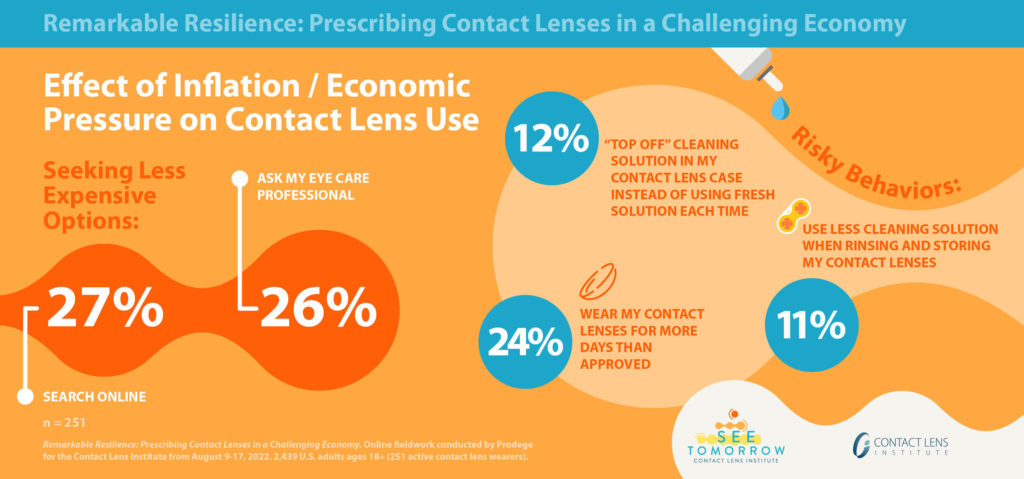 The report includes recommendations about specific products and services that practices could offer to patients to increase contact lenses' perceived value. Of those, several are commonplace but are not frequently emphasized, such as offering free trials of new and/or upgraded lenses. It also presents newly sourced data on consumer rationale for never trying and discontinuing contact lens use, with corresponding guidance on attracting new and retaining existing wearers.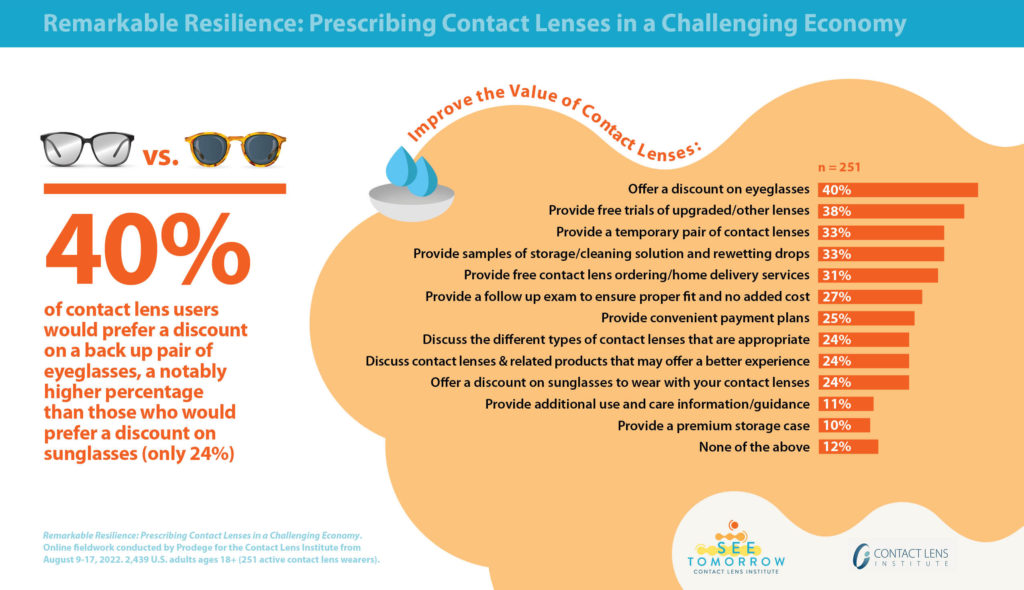 Spread throughout "Remarkable Resilience" are infographics and insights from 2022 Contact Lens Institute Visionaries—eye care professionals sharing practical, peer-to-peer advice about interpreting the new data, sharing it with colleagues and coworkers, as well as immediately putting it to use to grow practice and patient success.
In mid-November, CLI will host evening webinars to share additional aspects of its latest consumer research, combined with recommendations from several Visionaries. Complete information, including the panelist roster and scheduling specifics, will be announced in the coming weeks.
The Contact Lens Institute advances the latest innovations in safe and effective contact lens and lens care products and services that provide unique benefits to patients while satisfying the evolving needs of eye care professionals. CLI undertakes activities that properly assess, enhance, promote, and balance contact lens and lens care industry welfare and growth, including the safe use of products in the marketplace. Its members include Alcon, Bausch + Lomb, CooperVision, and Johnson & Johnson Vision. For more information, visit contactlensinstitute.org.