Half of the respondents to the most recent Jobson Optical Group survey of eye care professionals (ECPs) on coronavirus attitude and trends said that they are very or somewhat concerned about the possibility of having to shut down their businesses due to the virus. Eleven percent said they were very concerned; 39 percent said they were somewhat concerned. This total is significantly higher than the June 2021 survey results that showed only 31 percent of respondents saying they were very/somewhat concerned.
The percentage who said that they were not that concerned has been dropping since the high of 52 percent in May 2021 — to 48 percent in June 2021 and 34 percent in this Wave 25 of the ECP survey.
Among respondents, 83 percent said that they have already had one or more doses of the COVID-19 vaccine with another one percent each said they will absolutely or probably get the vaccine.
Six percent of the respondents said they will definitely not get the vaccine, and 3 percent said they were unlikely to get the vaccine. Five percent said they aren't sure whether they want to get the vaccine.
A new question in this wave of the survey asked respondents how likely they would be to attend an in-person industry event in the upcoming month. Forty-eight percent said they are disinclined to attend, with 25 percent saying no and 23 percent saying they were unlikely to do so.
In contrast, 33 percent said they would likely attend, (18 percent) or affirmatively (15 percent) would attend. Nineteen percent said they might attend.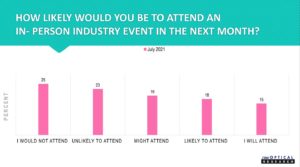 In a sign that the delta variant and surging COVID-19 cases are impacting people's planning, the percentage of respondents who said that they are not sure if or when they will be comfortable going to trade shows is at 23 percent, the highest level since this question was introduced into the survey in February 2021.
The percentage who said that they are comfortable now attending trade shows dropped from 45 percent in June 2021 to 41 percent in July 2021.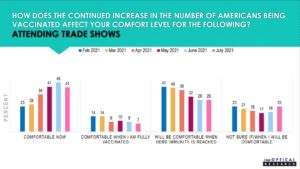 The concern seems to extend to practice processes as well. In this wave of the survey, 38 percent of respondents said that they are allowing walk-ins for eye exams, down from 48 percent who said they allowed walk-ins in June 2021. Now, 62 percent of respondents said that they are offering eye exams appointment-only.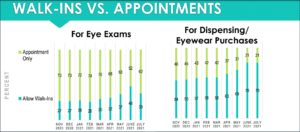 Nearly two-thirds, 64 percent, of respondents said that they are currently experiencing some issues with shipment/product delays due to supply chain issues because of COVID-19 restrictions. That question has not been asked previously. Even so, respondents said that they are in significantly better shape in July 2021 compared to the year before and are generally pulling even with their July 2019 metrics on key financial measures.
Wave 25 ran from July 26 to July 28, 2021. To read the entire report, which includes attitudes and practice planning, click here.