From being willing to attend trade shows to reducing safety protocols in the office, respondents in Wave 26 of the Jobson Optical Research Coronavirus ECP study reflect some increased hesitation about COVID-19 and its variants. For example, the number of people who answered that they are not sure if or when they will be comfortable with attending trade shows was at 29 percent in August, the highest percentage since this question was introduced to the surveys in February 2021. The number who said they are comfortable doing so now dropped to 38 percent in August, down from a high of 45 percent in June.
Similarly, the highest percentage yet – 36 percent – said that they are unsure if or when they will be comfortable reducing personal protective equipment usage in the office. The percentage who said that don't know if or when they will be comfortable relaxing in-office cleaning and sanitization protocols reached 38 percent again, matching this highest rate last seen in March 2021.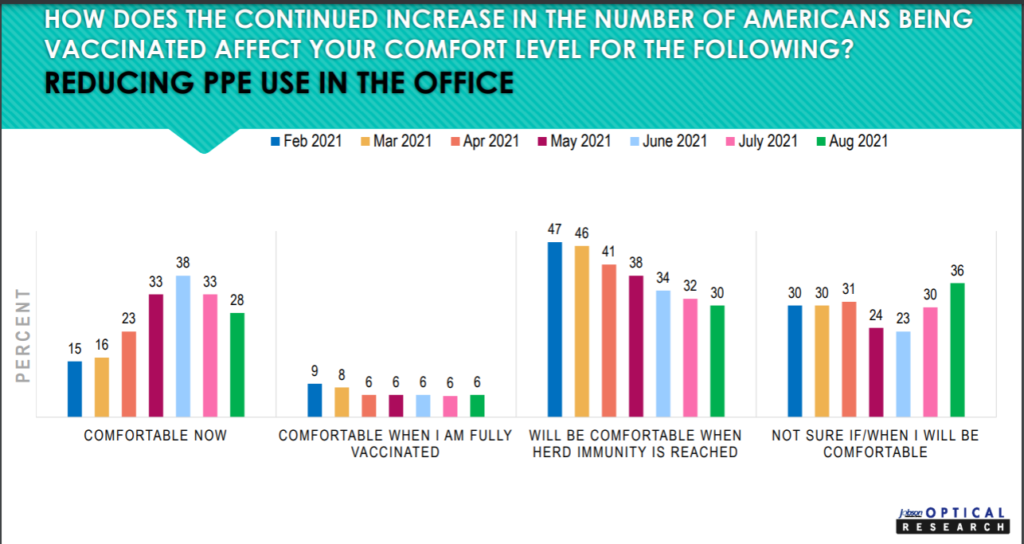 In Wave 26 of the survey, which ran from Aug. 13-16, 2021, 55 percent of the respondents say that someone who works in the office has gotten COVID-19, up from 54 percent when the question was asked in the July wave. In seven of the eight months since January 2021, the percentage answering yes to this question has topped 50 percent.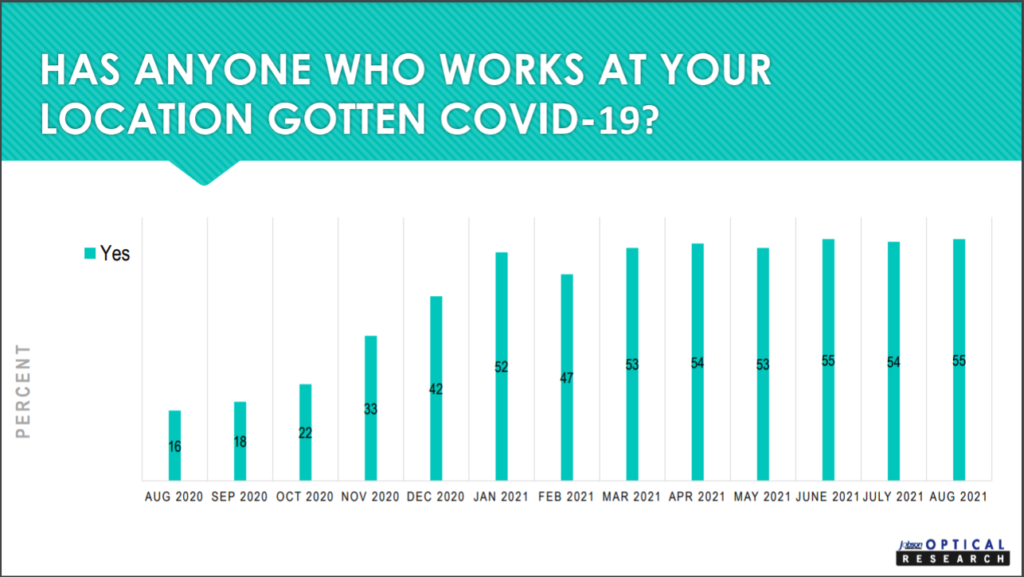 In a new question introduced in this wave, 14 percent of respondents said that someone in the office has gotten COVID-19 even after being vaccinated.
STAFFING CONCERNS
Lack of staff remains a concern for practices.  In this wave, 64 percent of respondents said that they could see more patients – with an average saying they could see one-third (33 percent) more patients than they are seeing currently. However, among the 36 percent who said they cannot manage a larger patient load now, 58 percent said that lack of staff was a barrier.
In May 2020, a question was inserted to ask respondents how they anticipate the number of patients they see per day will change over the next 30 days. The highest percentage of respondents yet – 57 percent – said they expect to see the same number of patients. Fewer respondents – 27 percent expected to see increases compared to last month – when 37 percent said they expected their numbers to rise in the month ahead.
KEY METRICS
As a reflection that many practices reopened to some routine care by this time last year or perhaps that the backlog of patients is decreasing, the year-over-year comparisons show growth are slowing down. The profitability per patient growth comparing the current month in 2021 vs. 2020 was down to its lowest growth rate – 10 percent – in August. Respondents reported a 30 percent growth in this metric in July. In most measures – profitability, number of patients per day, revenue, optical sales and capture rate – the current month tracks nearly even to 2019 numbers – and ahead of 2020 in every measure.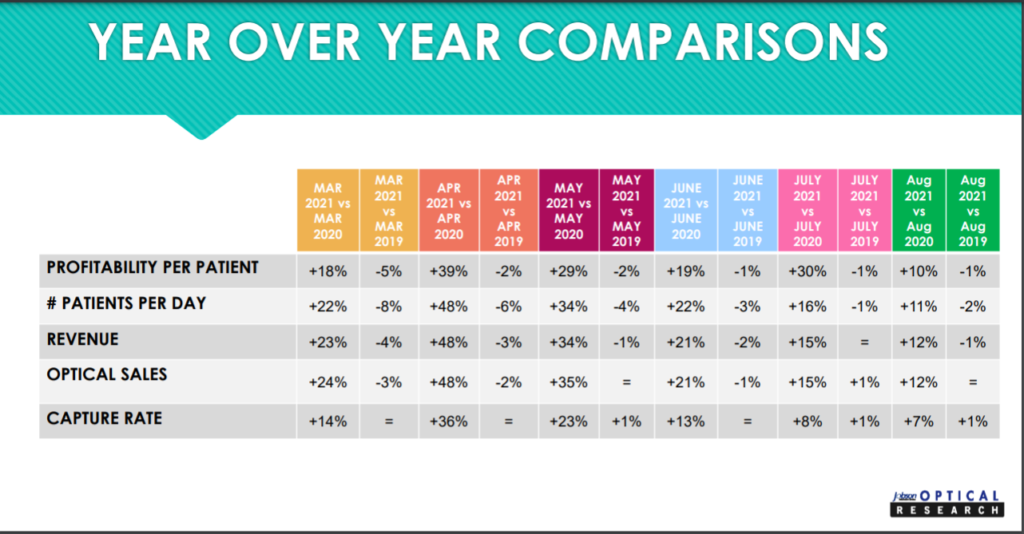 TRAVEL AND TRADE SHOWS
A slight majority of respondents (54 percent) said that they would not or are unlikely to attend an in-person industry even in the next month. That's higher than the 48 percent who answered that way in the July wave.
Some respondents have apparently made up their minds about whether they'll be attending Vision Expo West, with the number unsure dropping from 17 percent in July to 13 percent in August. The percentage who said that they plan to go increased by one, from eight percent to nine percent; the percentage who said they are unlikely to go increased from 75 percent in July to 79 percent in August. Overall, 75 percent said that they did not typically attend Vision Expo West prior to the pandemic.
Also in this wave, respondents were asked whether they typically attend American Academy of Optometry annual meetings, and 84 percent said no. In this wave, 83 percent said that they are not planning on going. Five percent said that they are likely to go.
The idea of having safety protocols in place seem not to persuade majorities at this point to change their minds: a requirement to show proof of vaccination or negative test results in the previous 48 hours would make 21 percent more likely to attend, but 56 percent said it would not make them more likely and 23 percent were unsure. When asked if those precautions would make people more like to attend American Academy of Optometry meeting in Boston in November, 17 percent said yes, 60 percent said no and 23 percent were unsure.
The full report can be downloaded here.