Changes in guidance on mask-wearing have created some confusion among practice staff and patients, especially in optical dispensaries. The wave 23 of the Coronavirus ECP Study, conducted by Jobson Optical Research between May 26-28, 2021, found that all of the respondents in exam-only settings said that they are continuing to require staff and patients to wear masks. In locations that provide exams and have a dispensary, 83 percent said that they are continuing their mask requirements for everyone, and 6 percent have already ended mask requirements. Twelve percent of those respondents said that they have lifted the masking requirement for vaccinated patients, and 5 percent have done so for vaccinated staff.
More locations that are optical dispensaries only have lifted mask-wearing requirements. Sixty percent said that they are continuing with mask-wearing requirements for everyone,  and 11 percent have ended their requirements.
The most common method for communicating this policy to patients is by signage at the door, followed by a staff member informing patients who call in to schedule an appointment. Signage throughout the office and on website and social media are also ways to let patients know what the current policy is.
A small percentage of practices are requiring individuals to prove that they are vaccinated to enter unmasked.
Respondents were asked to share if there had been confusion in their practices or opticals among the doctors and staff, as well as patients.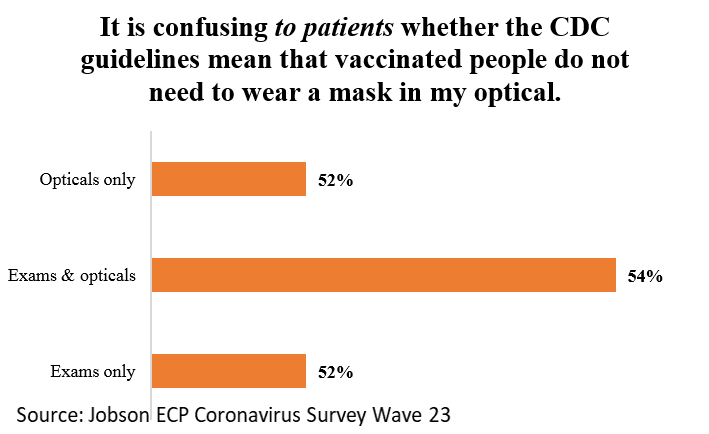 For those respondents who noted that patients are now expecting that they do not wear a mask, it can be problematic for staff to explain the policy. A number of respondents shared that patients who are unwilling to comply have started an argument or left the practice.
In this wave, 82 percent of respondents said that they have already gotten one dose of a COVID-19 vaccine. Although pandemic-related restrictions are loosening, 90 percent of respondents said that they are expect the hygiene protocols implemented during the pandemic to continue.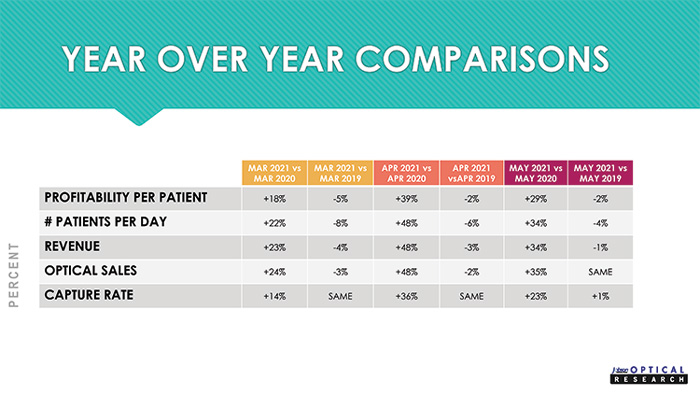 This year-over-year comparison chart shows that overall revenue in practices in May 2021 is approaching that of May 2019. At -1 percent, that is the smallest gap since this question was added to the survey.