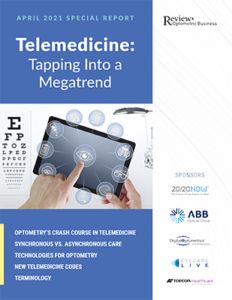 Review of Optometric Business has posted a new special report, Telemedicine: Tapping into a Megatrend. The comprehensive 38-page report, a true eResource, guides optometrists through best practices in incorporating and implementing telemedicine in their practices. Telemedicine technologies, reimbursement, and regulations round out the coverage of this rapidly emerging category in eye care provision.
Telemedicine: Tapping into a Megatrend is one component in a larger telemedicine educational initiative from Review of Optometric Business. Two COPE-accredited webinars are also available at no charge
• Using Telemedicine as a Customer Service Feature for CL Wearers, April 15, 7-9 p.m. Eastern (two credit hours) Register here.
• 7 Steps to Implement Telemedicine in Your Practice, May 4, 8-9 p.m. Eastern (one credit hour). Register here.
"Our goal is to provide ODs not only with a comprehensive overview of developments in telemedicine and new telemedicine technologies, but also to outline the opportunities that exist once telemedicine is implemented in practice," said Mike Rothschild, OD, president of Leadership OD, who served as professional editor of the report. "It was a pleasure to be involved in the production of this special report on telemedicine in optometry. To have the opportunity to discuss this topic with so many people who have stretched themselves and risen to new heights when challenged by the events of last year has been very refreshing. Exploring the possibilities, finding new ways to deliver care in innovative ways, while preserving our focus on the patient is what makes our profession great. I hope you will enjoy this special report and help us continue to expand excellence in eye care."
Telemedicine: Tapping into a Megatrend was sponsored by 20/20NOW, ABB Optical Group, Digital Optometrics, EyecareLive, and Topcon Healthcare.