By Melissa Barnett, OD, FAAO, FSLS, FBCLA, Chair, American Optometric Association Contact Lens and Cornea Section
Have you ever had a reckless driver dangerously roar past you — only to see that car pulled over by a police officer a mile or two down the road? That evokes a sense of fair play and also a measure of relief, knowing that at least for the moment, that driver is not a hazard to others.
Many ODs probably felt that way when they saw the news on Jan. 28, 2022, that the U.S. Department of Justice and the Federal Trade Commission (FTC) hit Vision Path Inc., dba Hubble Contacts with $3.5 million in fines for violating the Fairness to Contact Lens Consumers Act and the FTC's Contact Lens Rule.
Doctors and staff members should be aware of this ruling in case it comes up in patient conversations or questions this week. The heightened awareness from a news event like this is that it's a prime opportunity to remind patients that contact lenses are regulated medical devices, and the professional services that are part of a contact lens fitting are done to keep patients safe.
The Fairness to Contact Lens Consumers Act, implemented in 2004, increases consumers' ability to shop around when buying contact lenses. It gives consumers certain rights, imposes duties on contact lens prescribers and sellers and requires the FTC to develop and enforce implementing rules.
The Contact Lens Rule requires prescribers to give patients a copy of their contact lens prescriptions at the end of a contact lens fitting, even if the patient doesn't ask for it. A patient who wants to buy contact lenses from another seller then may give the prescription to that seller. If a consumer doesn't give his prescription to that seller, the seller must verify the prescription before selling the lenses. The verification process works like this: the consumer provides prescription information to the seller, who then submits it to the prescriber in a verification request. The prescriber has eight business hours to respond. If the prescriber does not respond within the required time, the prescription is verified automatically, and the seller may provide contact lenses to the consumer.
The rule allows prescribers to set prescription expiration dates – one year or more from the date the prescription is issued to a patient. If applicable state law requires a specific expiration period that is longer than one year, however, the prescriber must follow that law.
CONTACT LENSES ARE NOT ALL ALIKE
Today's contact lenses feature numerous variables in design and material properties. Despite the advances, there is an opinion floating out there that "all soft contact lenses are the same." Eye care professionals know that the variables influence oxygen transmission, surface lubricity and coefficient of friction, dehydration rates and lens stiffness, among others, and can have a significant impact on clinical performance. Studies, like Mechanical Properties of Contact Lens Materials and others help successful contact lens practitioners utilize the various lens properties to maximize clinical success. Additionally, these property and performance differences highlight the fact that one lens type cannot and should not be substituted for another arbitrarily. Forces in the contact lens industry have been trying to promote this activity based on false claims of equivalence. This behavior has the potential for significant negative outcomes and should be prohibited.
COMPLAINTS
According to a 2020 American Optometric Association (AOA) American Eye-Q consumer survey, complaints against Hubble were more common than against any other contact lens retailer.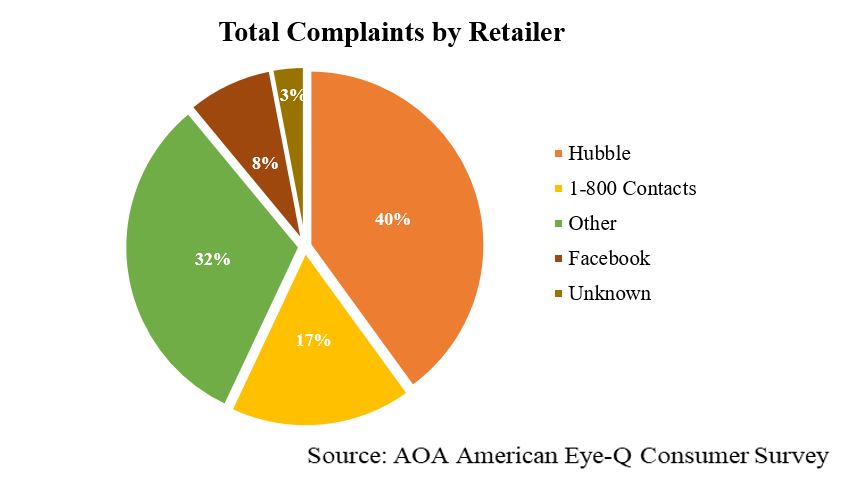 Of the total complaints by retailer, 40 percent cited Hubble. (chart.) Seventeen percent of the complaints were directed at 1-800 Contacts and eight percent at Facebook sales. Other and unknown sellers were cited by 32 percent and three percent, respectively.
The most common reason for the complaints, accounting for 36 percent of all complaints, was that there was not a valid prescription for the patient. Another 27 percent of the complaints were that the prescription was wrong. Twenty-one percent of the complaints focused on an incomplete verification request, and 16 percent said that the Rx had expired, according to the American Eye-Q survey.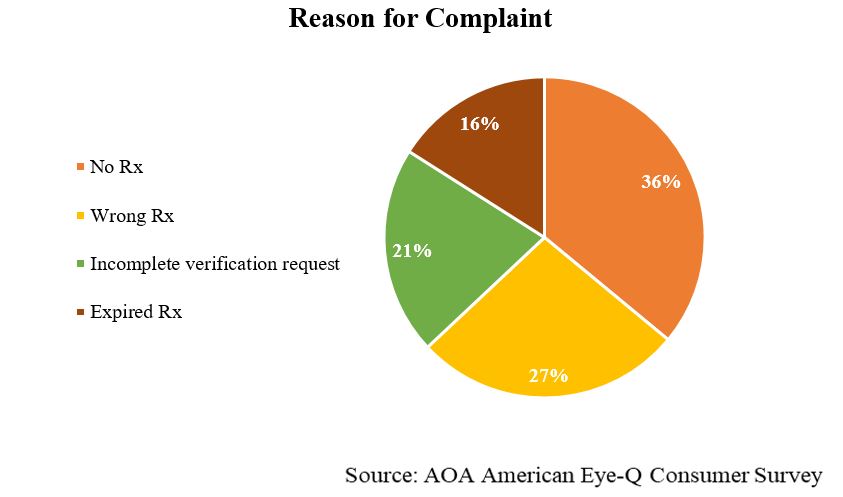 While Hubble Contacts may have been cited more often than other retailers, it is clearly not alone in contact lens practices that result in complaints and potentially in harm.
---
---
TAKE ACTION
So it's important that optometrists take an active role in fighting these sales practices. Your advocacy makes a difference. Join the AOA and the CLCS if you have not already done so.
The AOA has compiled these ways that you can report illegal or unethical sales:
Read more about reporting adverse events related to contact lenses.