Women In Optometry's first pop up poll garnered 140 responses from ODs and people working in optometry who weighed in on their career satisfaction. The overall numbers are here.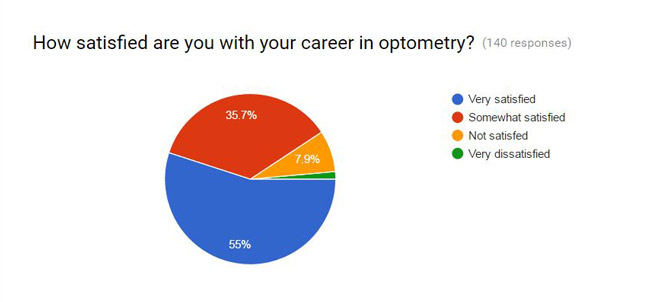 As a group, women ODs are slightly more likely to say that they are "somewhat satisfied" than the respondents overall.
52 percent of women ODs are highly satisfied
38 percent said they are somewhat satisfied
10 percent said they somewhat dissatisfied
Less than 1 percent said they are very dissatisfied
57 percent of male ODs said they are highly satisfied and 43 percent said they are somewhat satisfied. None responded that they were very or somewhat dissatisfied.
76 percent of men and women who are not ODs but work in the profession said they are highly satisfied.
12 percent said they are somewhat satisfied
6 percent said they are somewhat dissatisfied and
6 percent said they are very dissatisfied