More than 200 ODs responded to the most recent Women In Optometry Pop-up Poll, and about 68 percent of them said that there is the only or primary income in their household.
The vast majority disagreed (most strongly disagreeing) with the idea that women in optometry drive down income opportunities for all ODs. The poll was inspired by a recent news event where a legislator faced serious pushback after saying women should be paid less than men because men are the primary breadwinners—and that women in the workforce drive down income opportunities. Note that all who agreed strongly with the statement that women in the profession drive down wages were, in fact, women. Seventeen percent of male ODs and five percent of female ODs agreed with the statement.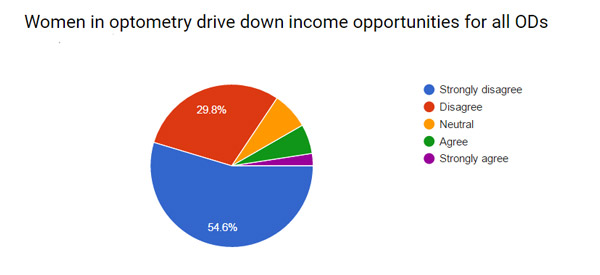 Overall, 76 percent of the respondents to the poll were women ODs. Looking at just the responses from women ODs, 66 percent said that theirs is the primary or only household income. Ninety-two percent of the men said that they contributed the majority of the income, with 38 percent saying theirs was the only income and 54 percent saying theirs was the predominant income. Eight percent said their partners/spouses earned more.