Sexual Harassment Is Prevalent in Optometry Today
More than half of Women In Optometry® Pop-up Poll respondents say they've been the subject of sexual harassment by a patient and more than one-in-four say they've been the subject of sexual harassment by a colleague in the profession. Even larger percentages feel that they've the subject of gender bias by a colleague or a patient.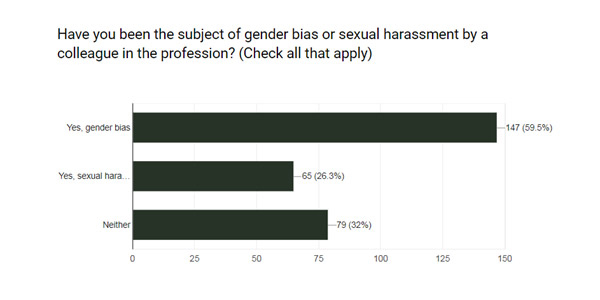 More than 250 people responded to a Women In Optometry Pop-up Poll on the topic. Seventy-seven percent of the respondents said they were women ODs, 4 percent said they were female optometry students and 8 percent said they were not ODs, but women working in the eye care profession. One percent of respondents identified themselves as X and the remaining 10 percent were men, with the vast majority of those being male ODs.
Most circumstances were not reported formally reported. However, 15 percent of respondents said they did speak out and named the person who subjected them to sexual harassment or gender bias. Another four percent said they reported it to the police or a board that had some authority to punish the person potentially. Some others noted that they reported it to their employer's HR department. But 13 percent of respondents said they told no one about the incident. The majority of respondents, 56 percent, said that they did a close friendly or family member, and 42 percent said they told staff or associates about it.
Numbers add up to more than 100 percent because respondents could choose more than one answer—and several people noted that they responded more assertively to incidents of sexual harassment than to incidents of gender bias.
A plurality of respondents said that they feel that gender bias is less prevalent today than it was in prior decades, but a slightly higher percentage, 45 percent, said that sexual harassment is not less prevalent today.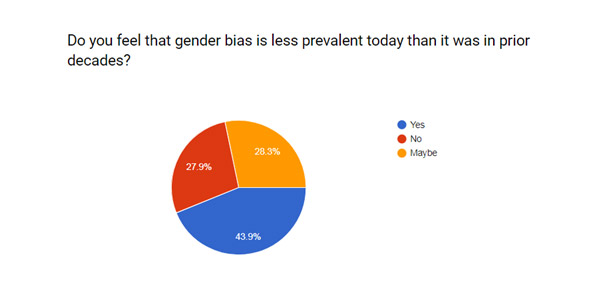 Among women ODs, 29 percent said that they've been sexually harassed by a professional colleague and 62 percent said they've experienced gender bias. Twenty-nine percent said they've experienced neither.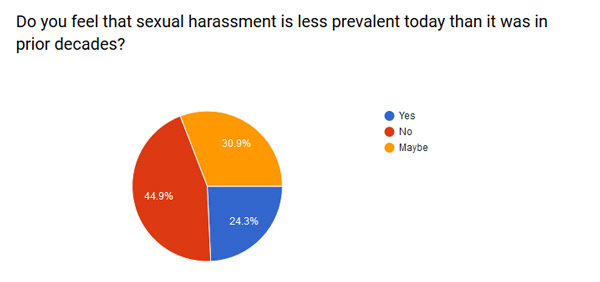 The experiences are more prevalent in exchanges with patients: 51 percent of women ODs have experienced sexual harassment from a patient, and 64 percent have experienced gender bias from a patient.
Among the smaller sample of male ODs who responded, 26 percent said they have been sexually harassed by patients, and 10 percent said they have been the subject of sexual harassment by professional colleagues.
A number of people shared their stories:
"Once at an optometry conference I was talking to a male colleague. I commented about taking off work for a couple months soon and pointed to my pregnant belly. He said he hadn't noticed my belly because he was staring at my 'melons.' I was so shocked I didn't know what to say and changed the subject and walked away."
"As a female student, I've had to sit through many talks by older, 'golden age' male optometrists who make casual sexist remarks when speaking. Examples: a doctor talking about an ideal income that optometrists can be making in private practice, following up with 'and for you women in the room, you can get together and work 2-3 days a week and make [significantly less number].' Same doctor also made a quip about how he likes having scribes in the room so "no one can think I'm a pervert…even if I am a pervert." Lastly, another doctor came to my school for an event and when talking to me privately, 'jokingly' asked if I wanted a sugar daddy, as he knew an ophthalmologist from my hometown who, though being 20 years older than me, was rich. He elaborated that he could see us going to his beach house on the weekends and to just let him know if I wanted the hook up. Disgraceful behavior by professional guests to my school!"
"Until recently, I was silent about being molested by a well-known glaucoma lecturer (14 years ago) and harassed by two contact lens reps in the 90s. Also, male patients have touched my breasts and slipped a hand up my dress while I was performing slit lamp. Now I ask, 'Why was I silent? Why have we carried around these dark secrets? Today I say, no more!'"
"Before optometry school, I worked as an optician in a private practice in a small town. There was an older male patient who made crude, inappropriate remarks about me. When I reported to my boss (male optometrist) he was very supportive; he even called the patient. My awesome boss insisted that I do not ever deal with that patient again. From then on, if that patient came around he would deal with him himself. Sexual harassment is rampant and disgusting. Yet I am thankful there are good people out there doing what they can to stop it. I only hope the awareness of the problem grows, as everyone does his or her part to end it."
"Sexual harassment should be redefined. Males often talk to women in a demanding way and have expectations that this is the norm. I am tired of men's unwanted comments and advances. Just because a woman is of the opposite sex does not give the man a right to talk or treat her with such disrespect. I often want to ask men if they talk to their mothers with that mouth."
"Perhaps I have been oblivious, and/or ignored any comments as irrelevant to my professional role. Actually, I was mentored in 1973 by my two hometown male ODs to go to optometry school, thus ending up as one of few women in my class. And after graduation, I was mentored by another male OD, whom I partnered with for a few years."
"I've been discriminated against as a woman of color in the military. I was made to feel like I was too inexperienced to call out the leadership for lack of integrity and for their protection of clinic members who were acting against patient interests just because they were white males."
When I was interviewing, a male OD interviewing asked me "are you married? Do you plan to have children?" First two questions out of his mouth. I said that wasn't his business because he wouldn't ask a man that but he said it was relevant because he had a female OD in the past give birth then move closer to family for childcare support. [I knew we wanted kids at some point but had no idea if we would easily get pregnant in the future or not.] Later, he suggested that he'd pay a generous hourly salary, then said "well, I'm assuming because you are a woman, you'll want to work 35 hours a week so we'll make that your schedule." I had a ton of loans like most people so I wanted as many hours and as much compensation as I could get and I didn't need to work 5 hours less so I'd have time at home to cook and clean for my husband. I don't understand why he even bothered interviewing younger female ODs if he was going to make childlessness a sticking point for his female ODs. I walked away from that interview shaking my head. I never called him back. Too many red flags."
"I bet a lot of women are directly or indirectly asked questions like that when interviewing or the employer tries to feel out their family situation, assuming a woman OD will need to take off for maternity leave or preferentially if a child is ill. We don't presume a dad will take off if a child is sick the way we assume that about moms. Although we might say "well their loss," it does limit a woman's career options and mobility to have to self-censor their employment opportunities in a way men don't have to."
"I've experience bias from pharmaceutical companies and large buying group as recent as six months ago."