A fact sheet issued by the White House in conjunction with President Joseph R. Biden's prime time address notes that his administration will expand the pool of qualified professionals able to administer shots. The list includes optometrists, dentists, advanced and intermediate emergency medical technicians, midwives, paramedics, physician assistants, podiatrists, respiratory therapists and veterinarians, as well as medical students, nursing students and other health care students in the previously listed professions under the Public Readiness and Emergency Preparedness Act. The U.S. Department of Health and Human Services will launch a new website to help individuals determine whether they are eligible to sign up to volunteer to administer shots.
It is part of his comprehensive strategy to make sure that every adult in the U.S. can be eligible for one of the COVID-19 vaccines by May 1. To make sure that every adult is able to get the vaccine, the strategies calls for increasing the number of places offering the vaccine, through community health centers, pharmacies and community vaccination centers. The administration is also taking steps to make it easier for people to find and secure an appointment for a vaccine near them, including a website that shows the locations that have vaccines available, a 1-800 phone number for those who lack internet access and added support to for state vaccine websites.
In his speech delivered on the first anniversary of the COVID-19-related shutdown, President Biden noted the efforts by vaccine manufacturers, health administrators and health care workers nationwide who have pulled together to ramp up vaccine distribution. He said, "Tonight, I can say we're not only going to meet that goal, we're going to beat that goal because we're actually on track to reach this goal of 100 million shots in arms on my 60th day in office. No other country in the world has done this. None." Because of this early and sustained success, he said that any restrictions on vaccine access should be lifted by May 1.
EIGHT STATES ALREADY ALLOWING ODs TO ADMINISTER COVID-19 VACCINES
As of last week, eight states have already granted optometrists explicit authority to administer vaccines: California, Colorado, Kentucky, New Jersey, Ohio, South Carolina, Utah and Virginia.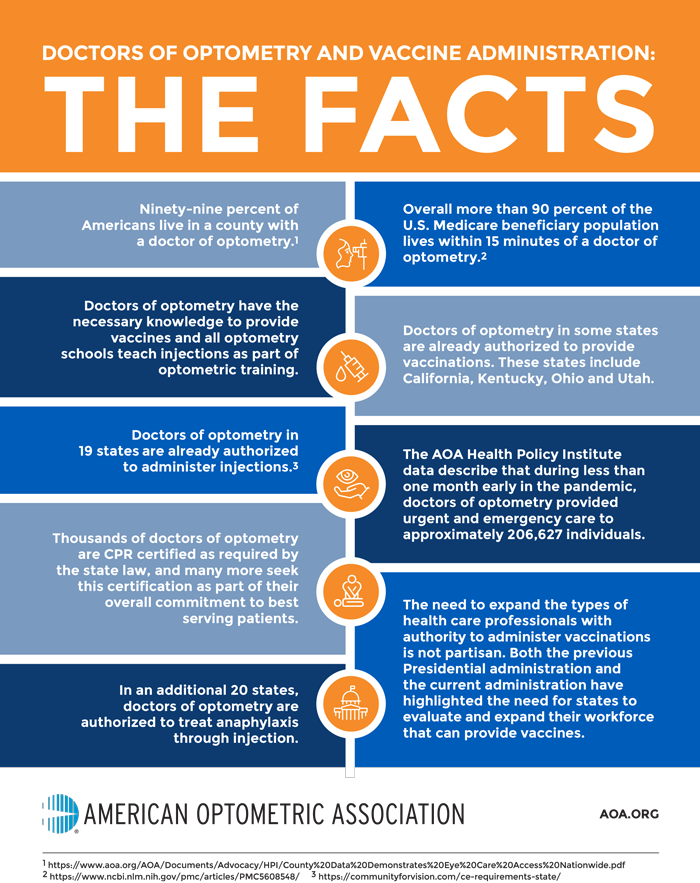 The American Optometric Association is committed to advocating for optometrists' right to administer the vaccine and preparing them to assist in vaccination efforts.
Are You Ready to Administer COVID-19 Vaccines?
Women In Optometry would love to hear from optometrists who are taking the steps to prepare for administering vaccines or are already doing so. Please email.