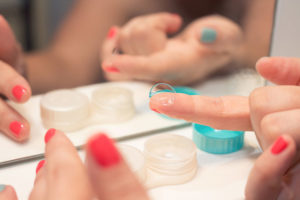 Your patients and the public become worried when they read about ocular manifestations of COVID-19 or advice that contact lenses should be avoided. The conversative approach is understandable, but don't lose sight of the evidence. What follows is feedback from other ECPs following our story, Are Patients Calling Asking If They Should Stop Wearing Contact Lenses?
Specialty Lens Wear During the Conoravirus Pandemic
Melissa Barnett, OD, FAAO, FSLS, FBCLA, past president of the Scleral Lens Education Society, is active on community social media groups for scleral lens wearers. It's one way she can help not only her patients, but those from around the world who are part of groups like Facebook's MyBigFatScleralLens.
"So many of our specialty contact lens patients cannot see without their contact lenses, so they become worried when they see recommendations not to wear contact lenses. It's important that they are informed of the guidance coming from the American Academy of Optometry and American Optometric Association. It is safe to wear contact lenses with the following recommendations. It is safe to wear contact lenses: wash hands prior to handling contact lenses, clean and disinfect lenses every night, avoid sleeping in contact lenses; if indeed you are sick, discontinue contact lens wear. It is important to take the right precautions."
She emphasizes the practical aspects of maintaining a safe environment and notes that it's true for all patients, even those who wear eyeglasses. "If a person touches doorknobs and then adjusts the position of their eyeglasses, they're potentially exposing themselves, too. Keep your glasses on your face to avoid contamination. Just like washing your hands, remember to wash your eyeglasses regularly."
In addition to sharing the guidance with patients, Dr. Barnett is eager for all eye care professionals to review the joint in-office disinfection protocol guidelines released by the American Optometric Association and the American Academy of Optometry.
Focus on the Science
Cristina Schnider, OD, MSc, MBA, FAAO, is chair of the American Academy of Optometry Section on Cornea, Contact Lenses and Refractive Technologies. She encourages practitioners to stay focused on the science about the spread of COVID-19. "While it is prudent to take every precaution to prevent the spread of this virus, there is absolutely no evidence that wearing eyeglasses is safer than wearing contact lenses."
From her personal perspective, the argument that contact lenses wearers touch their face more often doesn't hold up. "I can almost guarantee that eyeglasses are far more contaminated, touched more often and cause more face-touching than contact lenses. If you think about how many times eyeglasses are put on and taken off during the day, as well as where we put them when we take them off, the likelihood of contamination is huge."
She notes, too, that for medical providers and other emergency responders who must wear masks or protective eyewear, contact lenses—especially those thrown away at the end of each day—may be much more convenient.
Emphasize Proper Care
Carol Alexander, OD, Head, North America Professional Relations at Johnson & Johnson Vision, says that she understands that eye care professionals counseling contact lens patients in the middle of the COVID-19 pandemic might be conservative in their approach; "We defer to the professional organizations such as the American Optometric Association and the Centers for Disease Control and Prevention on professional-to-professional advice," she says. Yet it is important to remember that there has been no specific evidence that indicates that wearing contact lenses inherently puts a patient more at risk, she says.
"Contact lens patients are touching their face to insert and remove contact lenses," she says, but that doesn't necessarily mean they are touching their face more often than those who don't wear contact lenses. "Patients should follow their doctor's advice and the lens care instructions they have been given—most important to wash your hands for a full 20 seconds before inserting or removing contact lenses. If you're in daily use lenses, throw them away at the end of the day. Otherwise, clean and disinfect lenses properly, making sure not to top off solutions and to clean and air dry your contact lens case every day. By taking every precaution that they can, healthy contact lens wearers can feel confident that they are not doing anything that would increase the likelihood of spreading a viral infection."
Alcon Statement Emphasizes Hygiene
Here is the statement that Alcon has added to its website.
In regards to contact lens wear, there is currently no evidence that contact lens wear poses a particular risk of infection with coronavirus (COVID-19). In addition, there is currently no clinical evidence that suggests contact lens wearers are more susceptible to coronavirus infection than eyeglass wearers or people who require no vision correction at all, as has been the subject of some news reports. Therefore, patients should continue to follow the wear and care recommendations from their eye care professional while wearing contact lenses.
Thorough handwashing and proper contact lens hygiene is and always has been the BEST defense to prevent the transmission of any infectious organisms when wearing contact lenses. As a matter of fact, the Centers for Disease Control and Prevention (CDC) state one of the best ways to protect against COVID-19 is to clean your hands often and avoid touching your eyes, nose and mouth with unwashed hands.1 In addition, as has always been the guidance, people should not wear contact lenses if they feel ill with cold or flu-like symptoms.
"Coronavirus Disease 2019 (COVID-19): Steps to Prevent Illness." Centers for Disease Control and Prevention (CDC): (Accessed: 11 March 2020).