By Marjolijn Bijlefeld, Editor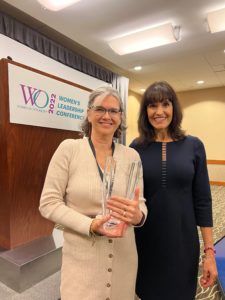 Thank you. I am honored and humbled at the special Theia Award recognition I received at this year's Women In Optometry Theia Awards for Excellence. It was an incredible surprise when Dr. Melissa Barnett stepped on stage to deliver it, and I almost fell down in shock when I saw that my colleagues at Jobson had arranged to bring my family cross-country to be there. It all means so much to me.
My passion for the work we do at Women In Optometry is a reflection of the passion, dedication and kindness of the WO community. Since its inception, WO has sought to amplify the voices of women ODs, and I am grateful for the teams of people who have worked on this. I'm grateful for the support and participation of the vendor sponsors and for everyone who sees that there is a place for a platform that merges practice and business management with lifestyle.
Thanks to all of you who have shared your stories – and let's keep them coming! You've told us about hard things: death, illness, disappointments and bias endured. And we've talked about the exciting things: new practices, new opportunities, resilience, children, goals met, physical feats accomplished and dreams fulfilled. You've trusted us with your stories and introduced us to women ODs whose stories you think are important.  And they are – any one of these stories might inspire or resonate with a reader.
I'm honored to be part of this wonderful community of encouragement and empowerment.