Most optometrists end up borrowing some money for optometry school. At an average of $30,000 to $40,000 per year for tuition, fees and other expenses, it's no surprise that 96 percent of respondents to a Women In Optometry Pop-up Poll said that they had or expect to have student loan debt. However, the amount of debt that students and young ODs have taken on has climbed.
The poll showed that among respondents who graduated in 1985 or earlier, nearly 70 percent said they had accumulated student loan debt of $50,000 or less. However, among the 2018 graduates and those still in school, about 70 percent said that they have
debt of $150,000 or more.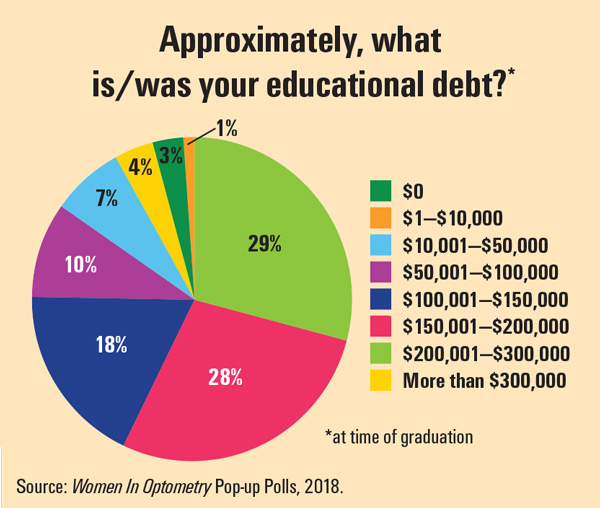 High debt-to-income ratio
In April 2018, the finance company Credible found that among graduate school degree-holders, optometrists have the highest debt-to-income ratio. On average, optometrists are paying 14.9 percent of their monthly income toward student loans. That's based on an average $1,369 monthly loan payment and an average $110,000 annual income. Note, however, that in the annual ECP Compensation Report produced by Jobson Optical Research and Local Eye Site, the average compensation for employed women ODs has not reached $110,000 in the eight years that the report has been tracking this data.
According to Credible, veterinarians, physician assistants, dentists and pharmacists rounded out the top five highest debt ratio careers, while computer scientists and MBAs had the lowest. Credible analyzed federal and private student loan debt levels and
salaries across 16 graduate school programs.
Indeed, the amount of debt carried by some medical professionals gained new attention in August when New York University made a surprise announcement that it was offering free tuition to new, current and future medical students. What kind of advantages will that create for those medical graduates who don't need to pay or borrow more than $55,000 a year in tuition?
Ripple effect of burgeoning debt
The impact of the student debt load isn't felt just by students and new or recent grads; it affects doctors and organizations that would like to hire them and need to offer a competitive salary. While optometry has appeal for being a flexible career, that flexibility typically comes with reduced wages. Income-based repayment plans can temporarily delay some of the loan payments, but those also end up extending the life of the loan. For the 2018-19 school year, Direct Stafford loans carry a 6.6 percent interest rate, 2 percent higher than last year. That's higher than the average 30-year mortgage rate, making student loan repayments a financial priority for many.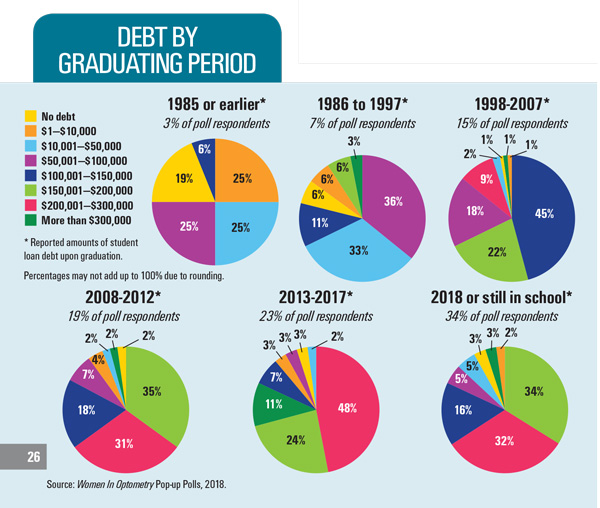 Repayment strategies
In another WO Pop-up Poll, 42 percent of respondents who are carrying student loan debt said that they are paying off their monthly balances plus additional principal every month. Another 20 percent said they pay down on the principal in addition to the monthly balance when they can. However, more than one-third of respondents (34 percent) said they are paying off monthly balances alone. Another five percent noted that they're seeking or currently in deferment or are using an income-based repayment plan.
Overall, about one-in-five ODs said that their debt load has no impact on the career choices they're making. However, more than half of the ODs who responded said that it has impacted career and personal decisions.
• Fifty-five percent of respondents said their debt load has delayed making larger personal purchases, such as a car or home.
• Thirty-seven percent said that their debt has affected where they have chosen to work.
• Thirty-one percent said that they've delayed or chosen not to open or buy into a practice because of their debt load.
• One recent grad noted that her student debt actually convinced her to go into practice for herself sooner.
• Smaller percentages of ODs said that they've delayed equipment purchases or other investments in their optometric practice or other business ventures, and several noted that they delayed making or maximizing contributions to retirement plans or other investments.
IS INCOME KEEPING UP?
One of the challenges facing ODs is the relative stasis in income. Data from the past eight years of the ECP Compensation Study shows that in addition to women ODs reporting lower earnings than their male counterparts, all ODs are seeing revenues increase only slightly. Note that in the 2018 ECP Compensation Study, the average compensation for employed male and females ODs was at an eight-year high. Yet among men and women who are owners or partners, the average compensation was down from the year before.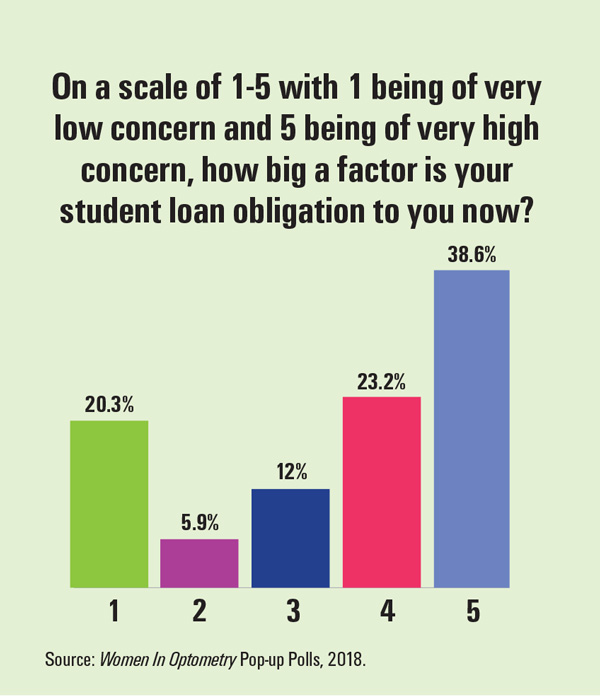 BIG CONCERN FOR MANY
While 17 percent of the nearly 600 respondents to the poll said that they have paid off their student loan, 74 percent are still carrying student loans; nearly 10 percent of respondents to the poll said the question wasn't applicable. Women ODs comprised about
73 percent of the respondents. The amount of student loan debt is of significant concern to ODs, with nearly 62 percent rating their concern over their education debt at a 4 or 5 on a 5-point scale.
If the trend lines of escalating debt and modest revenue increases continue, the challenges for ODs and employers will become more acute.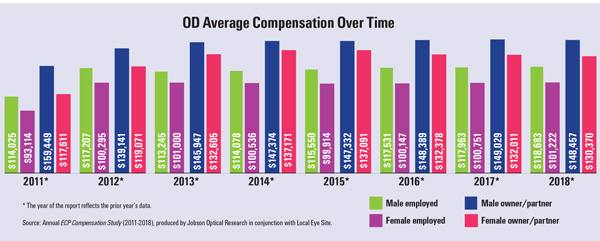 ---
---
Read more from this cover package