While the vast majority of respondents (98 percent) said that their practice locations are open, the coronavirus pandemic grind seems to be taking a toll. In the final Jobson Optical Research ECP coronavirus survey for 2021, taken from Dec. 8-31, 2021, most respondents say that while 2021 was a better year than 2020, it just barely came out even with 2019.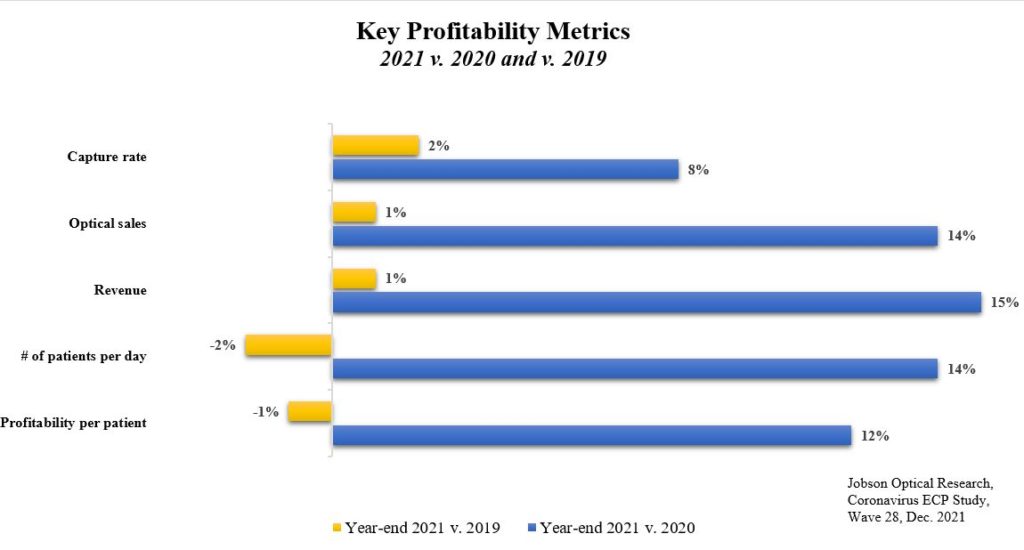 In terms of numbers of patients per day and profitability per patient, on average, respondents said their 2021 year-end numbers were lower than their 2019 numbers. Across the board, however, the consensus was that 2021 was a significantly better year than 2020. 
Also in this wave, 64 percent of respondents said that someone in their work location has gotten coronavirus, the highest percentage yet. In addition, the percentage of those who responded that there's been a breakthrough coronavirus infection (those who test positive even if they've been vaccinated) was up to 29 percent, an increase of 10 percentage points over the result in September. 
OPERATING CLOSER TO CAPACITY
Indeed, the most enduring long-term change that has resulted after nearly two years of pandemic is that 31 percent of respondents said that they have reduced the number of patients scheduled per hour. Twenty-one percent of respondents noted that they have increased the number of staff in their practices as a long-term change.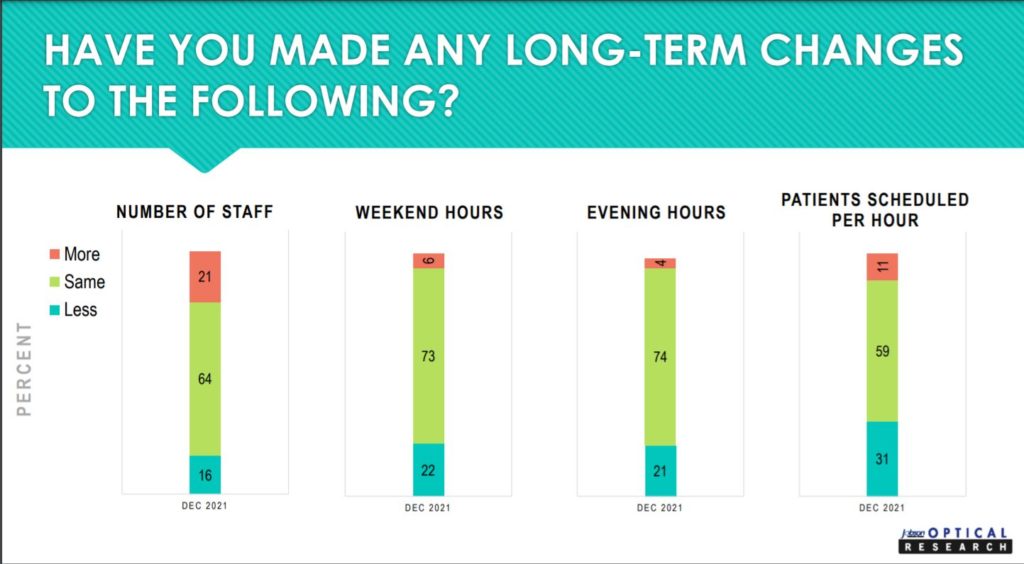 The percentage of respondents who said that they could not accommodate more patients that they are seeing currently was also at an all-time high in this wave. Forty-six percent said they could not squeeze more patients into the schedule. Lack of staff was the most common rationale for not being able to add more patients to the schedule, although "lack of patients" also saw an uptick in this wave, perhaps an indication that the omicron variant is keeping more people at home. 
That seems to be true for eye care professionals as well. More than half of the respondents said that they would not or are unlikely to attend an in-person industry event in the next month. Among the respondents, 26 percent said that they would not attend live events and 27 percent said they would be unlikely to attend such a gathering. 
This wave also asked detailed questions about supply chain issues, which 66 percent of respondents said they are experiencing, most notably with zyl and metal frame deliveries. Fully 81 percent said that they are waiting weeks longer, with 35 percent saying they're waiting two weeks and 46 percent saying they are waiting three-to-four weeks.