More than a quarter of the respondents to a July 2021 Women In Optometry Pop-up Poll said that the COVID-19 pandemic has accelerated their plans for retirement. While the majority, 61 percent, said the pandemic had no effect on their retirement timelines, the number of ODs looking to return within the next 10 years is significant at 65 percent plus. For about 5 percent, the pandemic had the effect of reinvigorating them. As one OD wrote, "When we closed for five weeks during 2020, it brought me to realize that I wasn't ready to retire." 
More than 400 respondents shared their plans for retirement; 215 were male ODs and 159 were women ODs. Overall, 10 percent saying they plan to retire within a year, 30 percent saying they expect to retire within a one-to-five year time frame and 25 percent saying they expect to retire within six to 10 years. Twenty-two percent said their retirement is likely 11 to 20 years away, and 10 percent expect to keep working beyond the next 20 years. 
SIGNIFICANT DIFFERENCE IN MEN'S AND WOMEN'S EXPECTATIONS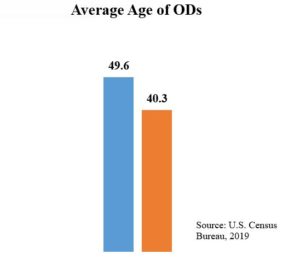 On average, male ODs are older than women ODs. For much of the past decade, the nation's optometry schools and colleges have graduated more women than men. 
That could be a factor in the sharp differences between men's and women's expectations about retirement. Yet 53 percent of the men ODs who responded said that they anticipate retiring within 5 years. In contrast, 29 percent of the women ODs responded that they anticipate such a timeline for retirement.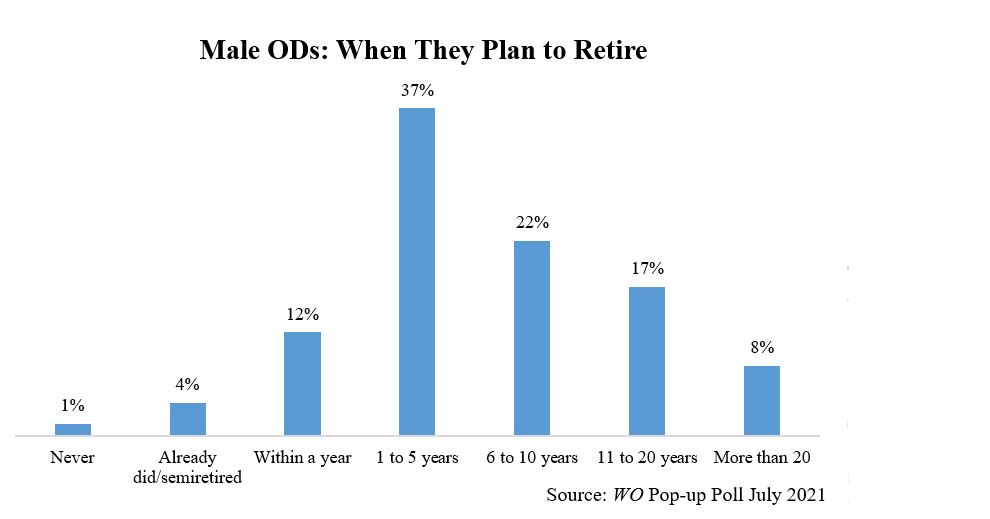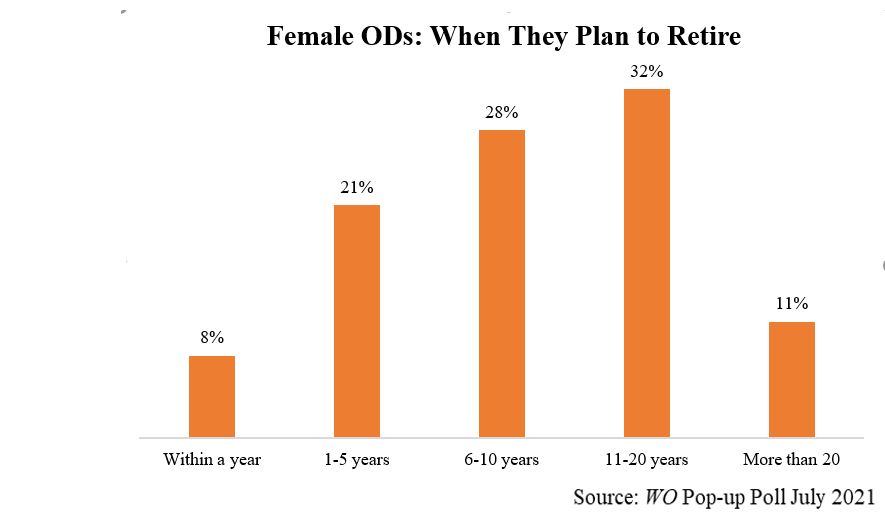 Indeed, 32 percent of the women ODs said that they anticipated working 11 to 20 more years, with 11 percent saying they expected to work more than 20 years. Among men ODs, however, 17 percent said that they anticipated working 11 to 20 years and just 8 percent said they expected to work more than 20 years, with an additional 1 percent saying that they'd never retire.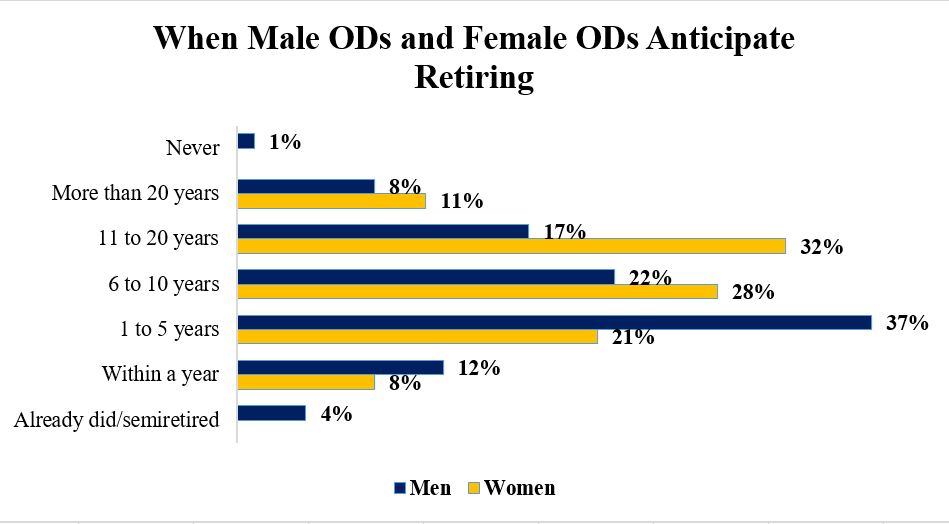 WILL I HAVE ENOUGH MONEY? 
Money — essentially having enough of it to fund a retirement – was the key concern cited by most respondents. Specifically, respondents wondered whether their savings or investment accounts were large enough, whether they'd need part-time work, how they'd cover insurance or health expenses for themselves or college for their kids. Many commented that they might need part-time work or that with the debt load they're carrying, they don't think that they could ever retire. 
WILL I BE BORED? 
Another worry about retirement is that some doctors feel that they might become bored. "I want to keep working for as long as I can, not because I need to financially, but because I truly enjoy helping people. However, the staff management is entirely too much work." Many of the respondents wrote in how much they have enjoyed and continue to enjoy their optometric career. One female OD who expects to retire in six-to-10 years wrote that she had the "fear I will miss working; being an optometrist is a big part of my identity. I hate to give up a private practice I worked so hard to build. Practice transition process is a scary unknown."
Several ODs mentioned that they've been able to find later-in-career opportunities that provide them the pace they enjoy. One woman, not an OD, wrote, "I retired from being a hospital CEO. I opened an optical boutique and am semi-retired now and enjoy the engagement with the optical industry and local community."
WHO'S GOING TO BUY MY PRACTICE?
Another common concern is how to manage a practice transition, which many related to their financial worries as well as what might become of their legacy. One respondent says they put their "blood, sweat and tears" into their practice and don't want it to be passed into the wrong hands. A male OD who expects to retire in six to 10 years wrote, "Originally I had planned to bring in partners to share duties, but despite several wonderful associates, their personal circumstances resulted in many unable to fulfill their hope to become a partner. I then considered equity groups and now am actively pursuing this avenue." 
A number of rural providers seemed to express true concern about finding someone willing to carry on their practice. Another OD wrote that his concerns were, "selling the practice and continuation of care for the patients I will be passing along. I practice in a rural area and hope that practitioners still see that as a viable model." 
Readers of Women In Optometry and Review of Optometric Business were encouraged to take the poll. The majority of respondents – 94 percent – were ODs. Male ODs comprised 53 percent of the respondents, while women ODs accounted for 40 percent of respondents and the remaining one percent preferred not to specify a gender. 
Read a related story with some guidance on practice transitions here.