April 2021 seems to have been a strong month for economic recovery for optometric practices, according to Wave 22 of the Coronavirus ECP Survey conducted by Jobson Optical Research from April 26-30. In year-over-year comparisons of April 2021 to April 2020, key metrics such as profitability per patient, patient volume and revenue are all up significantly. Compared to April 2019, 2021 numbers are still down but less so than they were in March.
Seventy-five percent of respondents to this survey wave said that their practice currently has capacity to serve more patients. This is the highest percentage who have said so since this question was introduced in November 2020. On average, respondents said that their practices could accommodate 26 percent more patients. This number is the lowest number since the question was first asked, indicating that patient volume is picking up. Among those who said that they could not accommodate more patients, the leading factor is lack of staff.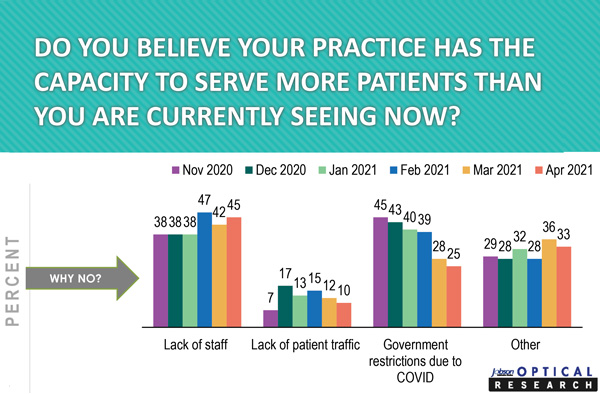 Practices are also increasingly seeing and allowing walk-in patients. In the April 2021 survey, 32 percent of respondents said that they are allowing walk ins for eye exams, and 63 percent are allowing walk ins for dispensing and eyewear purchases. These are the highest percentages in both categories since the question was added in November 2020.
Cleaning and safety protocols stay in place for most practices, with 93 percent of respondents expecting to continue their hygiene protocols post pandemic. Indeed, 54 percent of respondents said that someone who works in their location has had COVID-19.
The highest number of respondents yet, 79 percent, have gotten at least once dose of the COVID vaccine. The number of respondents who note that they are unlikely or definitely not going to get the vaccine has shrunk slightly from 12 percent in December 2020 to 9 percent in April 2021. Most respondents, 67 percent, said that at least 50 percent of their staff has been vaccinated. In March, that number was 59 percent.
Despite the introduction of the vaccine, 36 percent of respondents said that they do not plan to attend any live industry events for the foreseeable future. Hesitance to attend events was highest in January 2021 with 47 percent saying that they would not plan to attend live events.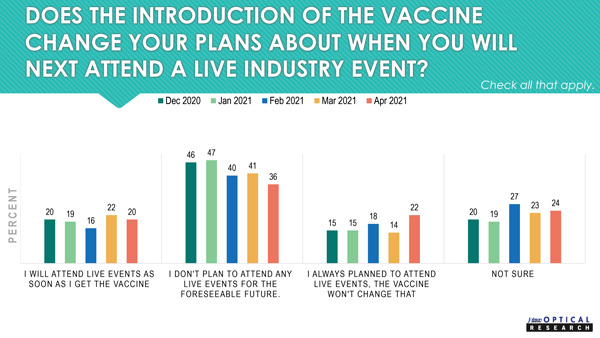 An increasing number, 34 percent, said that they would feel comfortable attending trade shows now.