Every year, six optometrists of varying backgrounds with different perspectives join the Women In Optometry advisory board to serve a two-year term. These ODs provide guidance and offer suggestions to the editorial team, and they're integral to selecting that year's Theia Awards of Excellence winners.
Joining the WO advisory board for the 2021-2022 season are the following:

Camille Cohen, OD, of Brooklyn, New York
Lori Grover, OD, PhD, of the Center for Eye and Health Outcomes and American Optometric Association trustee
Monica Johnsonbaugh, OD, of Grosse Pointe, Michigan
Hardeep Kataria, OD, FAAO, of Oxnard, California
Stacy Lyons, OD, of New England College of Optometry
Janette Pepper, OD, FCOVD, of Southern College of Optometry
They will be replacing the board members who served in 2019 and 2020: Jenny Coyle, OD, MPH; Lillian Kalacinzki, OD; Sherrol Reynolds, OD, FAAO; Mona Sood, OD; Annabelle Storch, OD; and Shauna Thornhill, OD.

They will be joining the 2020-2021 board members: Mamie Chan, OD; Nikki Iravani, OD; Ali Jensen, OD; Viola Kanevsky, OD; Sidra Qadri, OD; and Jessilin Quint, OD, MS, MBA, FAAO.

Meet The New Board Members
Dr. Cohen earned her doctorate of optometry in 2014 from Salus University. She has her bachelor of science in health sciences from The University of Miami. She has experience in private, hospital and retail practice settings. Her publications include a research paper with Bascom Palmer, as well as newsletters with The National Optometric Association and articles with Rise Art and Design Eyewear. She was the 2018 NOA Service Award recipient, for community service projects in New York as well as in Montego Bay, Jamaica. She has most recently been named one of the 2020 Most Influential Women in Optical by Vision Monday, with features in Women in Optometry and Eye Care Business magazines.
Currently, she manages her own practice, Pearle Vision, in Park Slope. Dr. Cohen is a first-generation Jamaican American, who has lived in the U.S. since she was 3. "Optometry appealed to me, not just because of my own vision issues, but because I recognized that eye doctors are an integral part of their surrounding community," Dr. Cohen said. "I am a black woman of immigrant parents who is determined to continue to evolve into as many roles as life continues to present to me." Read more of this special viewpoint and reflection on her evolving career that Dr. Cohen shared as she joined the WO board.
Dr. Grover is founder and co-director of the Center for Eye and Health Outcomes and a visiting scientist at Southern College of Optometry. She earned her doctor of optometry degree from the Illinois College of Optometry, and received her PhD in health services research and policy from the Johns Hopkins Bloomberg School of Public Health with certificates in health economics and health informatics.Her clinical specialty for more than 25 years has been care for chronic vision impairment, with her clinical research focused on population health, and includes access to health care, integrated care delivery models, cost-effectiveness and shared clinical decision-making. Her most recent research involves investigation of public-facing eye-related digital health apps, health literacy and user outcomes. She has authored multiple nationally recognized AOA evidence-based optometric clinical practice guidelines, successfully gained FDA medical device clearance and directed national/international medical device regulatory compliance and is a frequent lecturer and contributor on the value of comprehensive optometric eye care and health policy that improves the nation's health.
Dr. Grover served as faculty and on the medical staff at the Johns Hopkins University School of Medicine and Wilmer Eye Institute and is currently a trustee of the American Optometric Association. She is a member of the Vision Health Initiative Strategic Planning Committee at the Centers for Disease Control and Prevention. "Information is power. Advocacy in all its forms requires knowledge and facts to support improved health," Dr. Grover said. "As women doctors of optometry continue to grow in number and influence within communities, state and national leadership, and within the health care arena, we must embrace our duty to share information and lead in action – for our patients, for care delivery and for our profession. I hope to bring a unique perspective that encourages all colleagues in their role as eye care physicians to recognize these opportunities moving forward."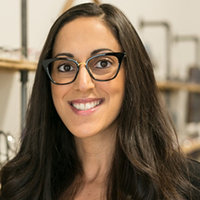 Dr. Johnsonbaugh is the owner of Focus 313 Eyecare, a modern boutique style practice that offers medical eye care, specialty contact lens fittings and independent eyewear. She has authored and published dry eye research and has been an industry speaker for more than a decade. She is passionate about lecturing on advancements in the optometric profession across the nation, at optometry schools and internationally.
Dr. Johnsonbaugh brings her experiences from across the profession the board from working in an OD/MD setting and large group OD practice, as well as the corporate-affiliated lease she still owns in addition to her private practice. "I bring the perspective of an independent private practice owner who has experienced rapid growth and success in a unique, cold-start practice," Dr. Johnsonbaugh said. "I love to empower women ODs to follow their practice ownership dreams and to inspire students to reach for their goals. I believe it is possible to be present for your family, own successful practices and help advance the profession, if that is your desire."
Dr. Kataria is an associate optometrist at Advanced Retina Associates in Oxnard, California. She's passionate about co-managing surgical procedures and advanced retina cases, developing the office's glaucoma and anterior segment clinic and serving as a leader among the team of staff and scribes. In June 2020, Dr. Kataria was named as the first optometrist to the Speakers Bureau for FeminEm, an organization that educates and promotes women in emergency medicine, highlights gender bias in health care and organizes education around the topic.
Dr. Kataria has set a goal to establish a network of women optometrists like herself to mentor and be available to speak with newly graduating women optometrists and residents who are in search of employment opportunities. "I can lend the perspective of a young woman optometrist in search of employment opportunities practicing medical optometry," she said. "Women optometrists need a network where they can go to ask questions specifically about contract negotiations and employment trends, for example, without fearing gender bias or conflict from other readers such as large platforms on social media."
Dr. Lyons is a professor of optometry and the chair of the Specialty and Advanced Care department at the New England College of Optometry (NECO) and has been a faculty member at the college since 1989. She teaches in the binocular vision and pediatric optometry courses at the college and provides pediatric eye care and vision therapy at the Charles River Community Health Center. She is also the vice-chair of the National Advisory Committee to the National Center for Children's Vision and Eye Health, a past-chair of the Vision Care Section of the American Public Health Association, co-director of the Special Olympics program Opening Eyes at the Massachusetts State Games and an active member of the Children's Vision Massachusetts Coalition.
"As a professor at NECO, I have witnessed first-hand how the demographics in optometry has changed over the last 35 years, from one that was predominantly men to predominantly women. I work closely with women students, residents and colleagues on the issues that women face in the profession and strive to close the gap."
Dr. Pepper is an associate professor and coordinator for student diversity and inclusion and minority recruitment at Southern College of Optometry. She provides patient care as an attending optometrist at The Eye Center in Pediatric Primary Care and Vision Therapy. She teaches optometry theory and methods IV and is involved with laboratories in pediatrics, vision therapy, strabismus and amblyopia. She has served as an investigator on multicenter research studies on amblyopia and on the correction of hyperopia in children.
With nearly 17 years in academia, Dr. Pepper said that she did not always voice her perspective regularly. "Initially, I did not realize the power of my voice and what I brought to the table. I did my job and that was it," she says. "Now I understand this mindset was a mistake; my perspective adds value. Thus, I plan to bring my authentic self to the board with a standpoint that encourages inclusivity and a message that may uncover a minority viewpoint that is not always acknowledged or validated but which is necessary nonetheless. The significance of this is that I get to model the expression of voice that I did not know I needed when I started as an optometrist."