Here's a recap of Women In Optometry's coverage of COVID-19 and its impact on the optometry profession.
Women In Optometry (WO) asked for feedback from its readers after CNN released a report stating that contact lens wearers should discontinue use. Many responses rolled in, featured in our story, Are Your Patients Calling To Ask If They Should Stop Wearing Contact Lenses? and we continued the conversation with Provide Evidence-Based Counseling On Contact Lens Wear.
SURVEYS AND DATA
WO has been polling its readers throughout March in regards to COVID-19. Coronavirus Concerns Ramped Up During March and Most ODs Have Routine To Prevent The Spread Of Viruses share the results.
WO has also been following trends reported by Jobson Optical Research in regards to COVID-19 and its impact on the profession. These are the latest results shared this week, followed by the third wave, the second wave and the first wave of data and results.
Several ODs have checked in with WO and shared what they've been doing as COVID-19 impacts their businesses.
YOUR STORIES
Samantha Hornberger, OD, of Lawrenceburg, Indiana, is not alone in the challenges she is currently facing surrounding COVID-19. To combat feeling helpless, she sat down with her staff and brainstormed ways to prepare and operate as best they could.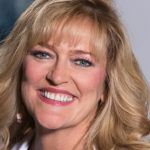 Laurie Sorrenson, OD, of Cedar Park, Texas, used special signage throughout the office and on her online presence to show the precautions she was taking at Lakeline Vision Source.
In the earlier days of the COVID-19 shutdown, Cheryl Murphy, OD, of Holbrook, New York, spoke with WO about dealing with coronavirus uncertainty—one day at a time.
How can ODs embrace advances in technology to do even more for patients? Dorothy Hitchmoth, OD, brings her vast experience in patient advocacy, health care administration and more to WO Voices.
Just a few weeks ago, fourth-year optometry students were on track to finish their optometric education in the traditional way. Irina Yakubin, will graduate from InterAmerican University of Puerto Rico, School of Optometry with the class of 2020, and shared her recent experiences with WO.