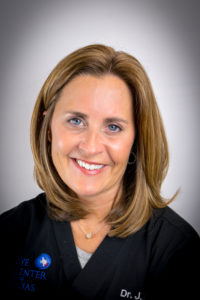 Jill Autry, OD, RPh, tells her patients at the Eye Center of Texas in Bellaire, Texas, that she is "allergic to April and September." It's not uncommon for patients with seasonal allergies to suffer ocular symptoms twice a year. "About 40 percent of the population has allergic conjunctivitis," she says. "Those of us who have it try to avoid the allergens, but what do you do in April? Stay inside all month? How can we help them?"
Dr. Autry says she is pleased that LASTACAFT® (alcaftadine ophthalmic solution) 0.25% is now available over the counter, providing her patients with effective relief. Traditionally, the earlier over-the-counter medications were mostly decongestants, and eventually, prescription products came along. But some patients' insurance benefits did not cover the medications, and patients were unwilling to pay out-of-pocket for these.
Since then, some products have moved from prescription to over the counter, but even there, some of her patients were not getting the relief they needed from once-a-day dosing.
"This is what is so exciting for LASTACAFT. It's an effective once-a day medication," she says, noting that the product is a combination of an antihistamine and a mast cell stabilizer. It also works fast, as demonstrated in the well-structured conjunctival allergen challenge. Patients who had ocular allergies on a first visit in the challenge were introduced to an allergen and scored their itchiness and redness symptoms on a scale of 0 to 4. Patients who scored 3 or 4 were included, and for 93 percent of them, their scores dropped to 2 or lower after instilling LASTACAFT.
Sixteen hours later, the study subjects had the allergen introduced again to their eyes, "and they didn't get the itch. That's a very long-lasting effect."  Plus, it works against common allergens like pet dander, pollen, grass and ragweed.
DIFFERENTIATORS
With LASTACAFT now over the counter, that means that the patients don't have to worry whether they'll be surprised at the pharmacy counter to learn that their insurance might not cover the prescription. It's available in a 5ml bottle, a 60-day supply and about twice as large as other brand once daily products at the same price.  Plus, it's approved for children as young as 2.
What also sets it apart, says Dr. Autry, is that it has the category B rating from the Food and Drug Administration – noting that there is no demonstrated evidence that this medication presents a risk to the fetus in pregnant women but that no large, controlled studies have been done. "That's important for women who are pregnant and nursing and don't want to have to stop treating their allergy symptoms for a few months or for patients who may be trying to get pregnant.," she says.
ENCOURAGE PATIENTS NOT TO SELF-DIAGNOSE
Being able to tell patients that there are effective OTC products is great – but staff and doctors should also encourage patients to have a diagnosis made by a provider. "When allergy season comes along, some patients will simply say that their symptoms are due to allergies, when in fact it might be dry eye or something else," says Dr. Autry.
She likes to let patients know that there are effective products for nearly every concern, but she wants to make sure they're treating their condition with the right products. A mast cell stabilizer, for example, might make dry eye conditions worse. "When a patient's nose runs and their ears itch, that's probably but not always allergy-related. But itchy, burning or watery eyes could be dryness, so maybe we'd want to start that patient on RESTASIS."
Patients will make assumptions, like the 65-year-old patient she recently saw who was convinced her watery eyes were a result of her exposure to grasses and trees. "I did a dry eye assessment, and that's what it was," says Dr. Autry.
BE PROACTIVE
Optometrists should be proactive in talking to patients about seasonal and other ocular allergies. "Allergists and family physicians are certainly going to be talking about it," she says, and it's important that patients start their treatments with the best products for their condition. "We now have a true once-a-day product that is highly effective, widely available and is not contraindicated for nursing and pregnant women. We have so many options for OTC products, but patients need their optometrists' guidance," she says.