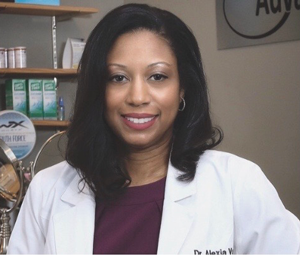 As a child growing up in Killen, Alabama, Alexia Vaughn, OD, MS, MBA, knew she would one day be a doctor. She just wasn't sure what kind of doctor she wanted to be. Her education led her down the path to becoming an optometrist. "I love helping my patients by advising them about how to live a healthy lifestyle," says Dr. Vaughn, owner of Advanced Eye Care in Homewood, Alabama. "It's important that people understand that what they eat and drink does impact the overall health of their eyes."
Dr. Vaughn has dedicated her practice to providing excellent eye care to her patients. She also is an advocate for educating people in Alabama about the risks of diabetes. "I have chosen to advocate for early detection of diabetes and changing one's lifestyle because it is predicted that in the next 30 years, one-in-three will be living with the disease," she says. "People living with diabetes is on the rise because of an increase in obesity rates, lack of physical activity and poor nutrition. That means the rate of blindness from this disease will rise as well."
UNDERSTANDING DIABETES
It's important that both patients and the staff understand the differences in types of diabetes. Type 1 diabetes is auto-immune and many times diagnosed in childhood where Type 2 risk factors include obesity, physical inactivity and poor nutrition. Emphasize the important of annual eye exams to detect and monitor the uncontrolled disease, adds Dr. Vaughn. "African-Americans and the elderly are significantly more likely to have and die from diabetes."
HELP PATIENTS MAKE THE CONNECTION
Here are the connections between diabetes and eye health that Dr. Vaughn says consumers should know. "I am passionate because so many people are affected and become blind just because they do not have the education to prevent diabetic complications. The health disparity is glaring, and I feel a responsibility to try to help close the gap," she says. Are you having a conversation with your patients about these issues?
1. Diabetes is a disease that can cause blindness.
2. Diabetes should have a diabetic eye exam at least once a year.
3. African Americans are more at risk for blindness from diabetes complications.
4. Technology can enhance the patient education process. Dr. Vaughn's office specializes in advanced technology for diabetic eye exams such as digital photos of the inside of the eye and imaging that shows the layers of the retina.
5. Diabetes patients are more at risk for developing dry eyes that can become severe if aggressive treatment is not start early enough.
Dr. Vaughn develops a specialized treatment plan for each patient to address their particular case of dry eyes. Nutrition is important in the treatment for dry eyes and sometimes supplements may need to be prescribed that help eyelid glands start producing better quality tears and can also help alleviate symptoms of dry eyes such as blurry vision, burning, watery eyes, frequent blinking and more.
The main reason that Dr. Vaughn advocates for a healthier lifestyle is to prevent diabetes. All patients, and especially those with Type 2 diabetes, can benefit from at least eight hours of sleep, regular exercise, smart food choices and eye exams to protect vision. More than 100 million adults currently live with diabetes, and Alabama ranks third in the United States for those being diagnosed with diabetes, however, many with the condition remain undiagnosed. Through her efforts in her practice and the community, Dr. Vaughn is working towards creating greater awareness and educating patients on the risk of diabetes and reducing their risk.