While vaccine efficacy and safety protocols around COVID-19 have sparked heated conversations, Enjoli Cooke, OD, makes no apologies about where she stands on the subject. She is a 2013 graduate of Pennsylvania College of Optometry at Salus University and opened her own practice Inland Eye Care in October 2019. Her practice location is in Moscow, Idaho, where the vaccination rate remains low at only 39.45 percent of the population being fully vaccinated as of Sept. 3, 2021. The area is divided between people who are concerned about COVID-19 and those who are not, and that division has contributed to which doctors these patients want to see.
SAFETY PROTOCOLS
Although the practice has dropped the protocol of checking patients' temperatures upon arrival given the variable presentation of COVID-19 infections, Dr. Cooke continues complying with CDC regulations in her practice. There are no walk-in appointments, even optical appointments, and everyone must wear a mask once they enter the facility. If patients do not have a proper mask, the staff provides them with one. If a patient must see themselves without their mask for frame selection, they are invited to the outdoor courtyard to complete their selection in order to reduce possible indoor aerosols.
Patients must fill out a questionnaire prior to their appointment, which consists of 10 questions on health, travel history and vaccination status. Although the practice accepts patients regardless of their vaccination status, Dr. Cooke says it is vital to see if they have recently traveled outside the immediate area or have any health concerns. Patients who have engaged in recent air travel or traveled to a hot spot area must delay their visit by a few days to reduce the risk to other patients or staff.
NO MASK, NO SERVICE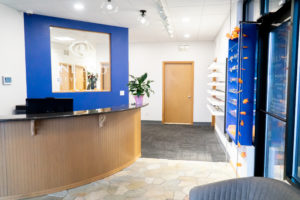 Dr. Cooke does hear from people who do not view COVID-19 as a threat; they may express complaints about the strict safety protocols. She has heard some patients say that COVID-19 cases are overblown and that it is "just the flu." In addition, several vaccinated patients voiced frustration, saying that the "doom and gloom is unnecessary," since they received their shots. If patients are unable or unwilling to comply with office protocols, Dr. Cooke recommends a nearby optometrist with more relaxed policies for these patients. Conversely, that optometrist suggests that his patients who may want tighter restrictions visit with Dr. Cooke. These recommendations are made without judgment as "we all have different levels of risk tolerance at this point of the pandemic," Dr. Cooke says.
Most of her previous patients appreciate the safety regulations, and they spread the word, Dr. Cooke says. One potential patient called the practice in late August, asking about the vaccination status of the doctors and employees because he wants the safest environment for his mother who has cancer. He had contacted several practices and said that some of the staff responded with outrage at his question, saying that they felt it violated their privacy, she says. He was grateful that Dr. Cooke and her staff are transparent about their vaccination status, so he booked an appointment for himself and his family, Dr. Cooke says.
In addition to the safety protocols, patients tell her that they enjoy that they have their own allotted time and the undivided attention from doctors and staff, says Dr. Cooke. In order to preserve the same welcoming environment from pre-COVID, the staff programs the radio based on the patient's personality and interest. The music on any given day could range from classical music and show tunes to '80s or '90s rock.
"Although I opened my practice right before COVID-19 hit, I don't regret my decision to implement strict masking and sterilization policies in my practice. It might limit some potential patients, but it's important to put my safety and that of my staff and patients first. As an eye care professional, I want to foster a safe environment where patients feel at ease during their visit, yet know that we have the best interest at heart for our community," Dr. Cooke says.