Karen Kopiko, OD, FAAO, has been an active volunteer with local and state optometric organizations as well as other service projects from homeless shelters in her area to as far as Tijuana, Mexico. Her interest in humanitarian efforts led to her participation in the Pfizer vaccine trial in August 2020 and the booster shot trial.
Dr. Kopiko received her optometry degree from Southern California College of Optometry, and in 2002, she opened her private practice, Rodeo Family Optometry, with Brad Upshaw, OD.
PFIZER VACCINE TRIAL
After receiving an email about Pfizer's vaccine trail in her area, Dr. Kopiko completed an application form that included questions about her health, demographics, race and if she was previously diagnosed for COVID-19. Why she was selected for the trial – and her OD husband was not – is not clear to her, she says.
The vaccine trial requested several in-person visits and weekly symptom write-ups. Early on, she was asked for recommendations of colleagues or friends, especially for people of color and those of different backgrounds and ages. After technicians took a blood sample and administered a COVID-19 test,  she was approved and returned for the start of the trial. She was advised that she could receive either a placebo or the actual vaccine. After the injection, she was observed for approximately an hour and was allowed to leave when she didn't show any adverse effects. In later practice, people receiving the vaccine only spent about 15 minutes in observation. Three weeks later, she came back to the testing site to receive her second dose.
Every week, she filled out any symptoms she experienced in a diary and was asked to come back three times for a check-up throughout six months. Once the trial was finished, she could call and ask if she received the placebo or vaccine dose; Dr. Kopiko learned that she received the actual vaccine.
Dr. Kopiko, former past-president of the Alameda/Contra Costa Optometric Society, said she felt happy to volunteer because she knew she was "helping out the community and that my participation was making a difference." She hoped that her experience would nudge hesitant people to get vaccinated and prevent more casualties because she witnessed the challenges that her friends and family diagnosed with COVID-19 faced.
BOOSTER SHOT TRIAL
More recently, Dr. Kopiko opened another email about the booster shot trial. The trial was set to begin in mid-2021, but the start date was delayed, Dr. Kopiko says. She received her shot on July 30 and is currently participating in the trial. At this point, her hunch is that she received a placebo because she hasn't experienced any symptoms, she says.
The booster shot trial has fewer administrative hurdles, Dr. Kopiko says. The time between arrival and receiving the shot was fast, and she can report her symptoms through a phone call.
PATIENT REACTION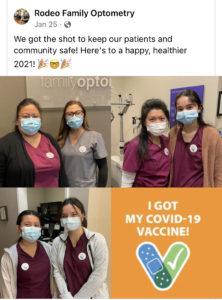 Most of her patients positively react to her experience, says Dr. Kopiko. She hasn't received any negative responses, and unvaccinated patients usually ask questions. Last year, when fewer people than now were vaccinated, Dr. Kopiko would discuss her experience proactively. "It was a great talking point because not only does it encourage people to ask questions, but it also unveils the mystery behind the vaccine," she says. If patients wanted to get vaccinated but weren't sure about the process, the staff would help them book their appointments.
Dr. Kopiko says she's witnessed a shift in vaccine administration and patient concerns compared to 2020. She has seen more positive reactions, and most of her patients are vaccinated, which has decreased some of the safety concerns in her practice. Still, the practice continues to administer strict sanitization policies, keep the acrylic barriers by the front desk, ask COVID-19 screening questions before appointments and require anyone over the age of 2 to wear a mask.
"I hope that all our staff and patients, and the general public, stay in good health and that we can go back to some sort of normalcy that everyone is compliant with," says Dr. Kopiko.