For many people, a trip to the eye doctor could be considered uneventful. The doctor's office is likely close to home and an exam is often covered by insurance. But this isn't the case on the Dutch side of St. Maarten, a small island in the Caribbean Sea. Eye care is hard to come by as the island has limited equipment and eye care professionals, making a routine eye exam anything but routine.
Earlier this year, Carol Record, OD, of Charlottesville, Virginia, traveled to St. Maarten as part of a trip sponsored by Essilor of America. For three days, she conducted eye health screenings and refractions with help from members of the Essilor brand sales team. "I felt I was able to make a significant impact on the lives of many people, even though I was only there for three days."
The trip is the result of a chance encounter in 2015 that led to a unique partnership between Essilor of America and the Kidz at
Sea Foundation, a program designed to introduce St. Maarten youth to all aspects of the marine industry. This year, Dr. Record volunteered with the team as it offered eye examinations and provided eyeglasses to youth enrolled in the Kidz at Sea program, local
schoolchildren, faculty and elderly residents.
The Essilor Vision Foundation (EVF), an independent 501(c)(3), was proud to support the initiative by providing screening equipment needed for the exams and frames for the eyeglasses. Essilor provided premium lenses and sun lenses.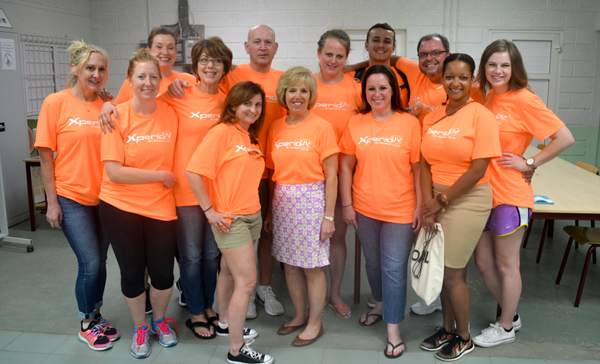 Eye care with a mission
Dr. Record says that, for her, it's vital to partner with a company whose mission she can support. That's why she didn't think twice about volunteering to go to St. Maarten with the Essilor team. "A mission defines a company's purpose and, with a clear mission, you know and rally around what that purpose is. In our practice, we're the trusted leader in eye care in central Virginia, dedicated to making people's lives better. Essilor's mission is improving lives by improving sight, so this partnership is a natural fit for us."
How to help locally
It's not necessary to travel overseas to help people in need. There are 46 million low-income people in the U.S. who can't afford a routine eye exam or don't have insurance to cover an exam.1 "I suggest that ODs get involved in local, state and national optometric associations. These associations know of programs where ODs can volunteer at free eye clinics and see underserved patients, so that's always a good place to start," Dr. Record says. Her practice started a program called Virginia SEE (student eye exams) to serve schoolchildren. "We called all the school nurses in Charlottesville and five surrounding counties and said we would provide a free exam
to any student who can benefit from one. We dedicated one full day during the school year to do these exams and were so fortunate
that EVF provided all the eyeglasses we needed for that day."
Eye care for all ages
While in St. Maarten, the team saw patients ranging in age from 3 years old to older than 90. "We did very basic eye exams and eye health screenings on the kids to assess their refractive needs," Dr. Record explains. "We saw about 70 schoolchildren, and at least 95 percent needed glasses. I was surprised at the high rate of children needing glasses until I learned the teachers had prescreened the students and selected the ones they thought had vision problems. I was impressed with the teachers' accurate observations."
For the adults, the team did basic glaucoma testing and looked for urgent medical needs. "We found three patients with she says. It's just as important for adults to get regular eye exams as it is for kids. "Uncorrected vision problems in adults can cause eye strain
and fatigue resulting in lack of productivity, and eye diseases such as cataracts, glaucoma and diabetic eye disease can cause blindness."
A life-changing experience
Dr. Record says that the trip was life-changing. "It was so heartwarming to see how appreciative the residents were about me
donating my time. It felt so good to be able to help people, and I look forward to doing it again." Her patients back home in Charlottesville have enjoyed hearing about her trip. "Patients love to hear about situations where you go out and help people in need. They can't help but share my enthusiasm when I talk about the trip. When I tell them how Essilor is involved, it makes them feel good knowing their lenses come from a company that also cares about and helps people in need."