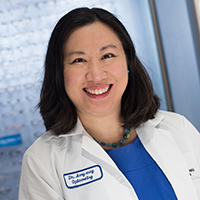 Amy Roan Moy, OD, FAAO, CPCO, showcases her jewelry and other crafts that focus on her love of all things related to the eyes, penguins and Down Syndrome. The name of the shop is inspired by the children's book she authored, The Polka-Dotted Penguin.
Dr. Moy is the director of Health Center Network and Chief Compliance Officer, adjunct associate professor of clinical optometry and an attending optometrist with Martha Eliot Health Center at Boston Children's, all a part of the New England College of Optometry Clinical Network.
Check out her Etsy shop here.
She's also sharing her collection of t-shirts and accessories in her Redbubble shop.