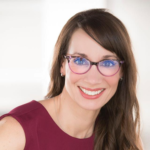 Eye dryness is a frustrating issue for so many patients in her Edmond, Oklahoma, practice, says Selina McGee, OD, FAAO, Dipl ABO. "Even before the pandemic, the average American spent 11 hours looking at electronic or digital device screens," she says. She expects that those numbers are considerably higher as more people are working and learning from home.
Even so, many of her patients don't recognize that they can do something about the symptoms of dryness, irritation and discomfort. "We have to talk about blink rates and the environment," Dr. McGee says. With the introduction of REFRESH® DIGITAL Lubricant Eye Drops from Allergan, she is now able to recommend an over-the-counter brand of artificial tears specifically designed to address eye dryness from screen time.
She now carries the drops in her office so that patients can get exactly what she's recommending. Dr. McGee, who also has a strong dry eye practice, says that treating dryness symptoms and clinical dry eye are very different but both conversations start based on patient's subjective responses to a questionnaire that asks them to rate comfort. "We can introduce more point-of-care testing to uncover true dry eye disease," she says. Yet awareness is the first step in education. "We're trying aggressively to make people aware of symptoms of dryness and then dry eye disease."
And for regular digital devices users, it's a "good everyday practice to get up from their computers, move around and use a lubricating drop—at least once in the morning and once in the evening."
Having the word "digital" in the product name resonates with patients, she says. They are aware of how much time they're spending on their devices. "It's not uncommon for patients to say, 'When I'm not on this screen, I'm on that one.' Everyone is in such a different mode of working now, and it's not ideal for the ocular surface," she says. Even young patients will tell her that their eyes do feel dry and irritated after a day of digital learning.
REFRESH® DIGITAL products feature proprietary HydroCell™ technology that enables hydration and maintains the volume of cells on the eye's surface, supporting the oil/lipid layer, the aqueous layer and the mucin layer. Layer by layer, REFRESH® DIGITAL acts to prevent tear evaporation due to lipid layer deficiencies impacted by incomplete blinking from screen time.
The drops are available in multi-use bottles as well as in a preservative-free formula with single-use vials. She says that if patients are using artificial tears more than three times per day, she'll recommend the preservative-free option.