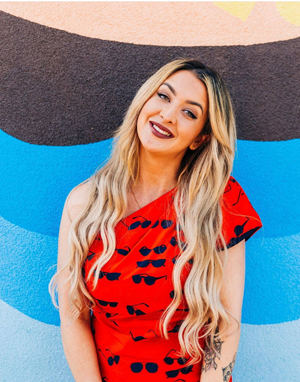 You've probably seen it on your schedule before: a line-up for a busy day and smack in the middle is a visit from a vendor representative. Maybe it seems disruptive to your flow, but have you considered all that this individual truly has to offer your office? The frustration and misunderstanding can be felt both ways, says Mikki Collins, a frame sales representative. "As a rep on the road, I could drive for six hours to an appointment, and they forgot they had me on the schedule," she says. "It got me thinking how everyone has seemed to have built up a wall and a stigma around sales in general."
When Collins met optician Chelsea Langton via Instagram, it didn't take long to realize that they shared an interest in this topic, expanding knowledge and helping each side make the most of the relationship.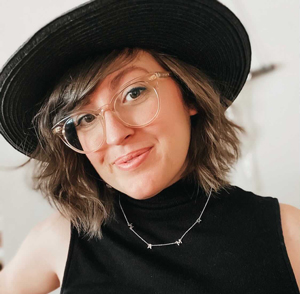 As they learned more about each other's positions, they decided that the concept was worth a deeper dive. Surely, they were not alone in these feelings. "It was fun because I've worked with reps for years, but I never really knew the other side of their job outside of them coming into the office," Langton says. "As I started learning more, it built better relationships with my reps because I knew what they were going through."
EXPANDING THEIR REACH
Collins and Langton considered how to launch this initiative and put everyone's experiences in one place: would it be a podcast or video series? "Everyone has a blog or website," Collins says. They ultimately landed on a print and digital magazine platform for ROWT Magazine, which stands for Reps and Opticians Working Together.
ROWT Magazine covers personal stories; communication, sales and social media tips and products that the pair will release together. "We want to give everyone an opportunity to speak and a place to voice what they are passionate about," Collins says. They've invited some individuals to participate, and there's already an organic interest of those who want to share their own stories. Langton says that they are excited about the amazing response so far. "Our ROWT page is growing faster than our personal pages," she adds, laughing.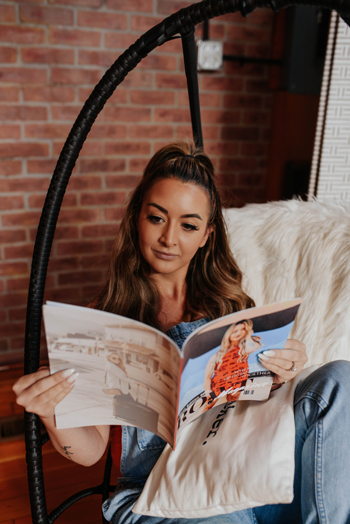 They chose to offer a print option, when so many platforms are going digital only, because they see value in being able to physically hold the magazine and share it with others. Collins says that her own feature in a local publication, Katana Fashion Magazine, which helps create exposure and networking for artists, models and vendors, also pushed her forward in this direction. "It was so cool to have that printed copy in my hand to show my kids, family and friends," Collins says. "I wanted to recreate the feeling the it gave me, but for our writers and readers."
The first two editions were released in July and September, and readers can look for the next issue in January 2022. There's still a lot left to learn and share. Collins hopes that office staff will drop their guards a little bit and look past the sales job description of rep. Many reps are former opticians and have a genuine passion for helping the office, but if both sides don't open up to give the relationship a chance, this information is never shared.
Langton says the dynamic of her own relationships with reps has changed in the office where she works, and she looks forward to the impact that ROWT Magazine will have in helping others reevaluate their approach to working with industry representatives. "We're supposed to be friends, but there is that wall that we are breaking down."
PLENTY OF POTENTIAL
Looking ahead, Collins says that they are also exploring how to expand this into a subscription box-type service to continue this very real and important conversation among opticians and reps.
There are also plans to launch a ROWT directory, an important resource where individuals will be able to create and update their own profiles and search for a rep at a particular company. Langton says she's faced her own challenges in knowing who to contact at certain companies, sometimes being referred to people who are no longer working there. "This will be a better community for people to find who are they are looking for." Collins envisions that they will be featured with the territory and brand that they represent, and they can edit it themselves if they change positions.
READ ROWT AND LEARN MORE
ROWT Magazine is available in both print and digital platform, which the duo expects will create a wide reach across the country and beyond. They're determining the best production schedule for their audience quarterly as long as the content continues to come in, and they are learning from each past issue to make the publication even stronger. Read the magazine.
Connect with Collins, Langton and ROWT Magazine on Instagram.
BEHIND-THE-SCENES: HOW THEY MET
Collins started in the industry as an ophthalmology technician, a flexible position that would allow her to move with her husband, who serves in the military. She became a certified surgical technician and spent a decade in a multi doctor practice with ODs and MDs. In 2019 when she moved to Washington, and, ready for a change, she took a technician position at an optometry office. "I found myself browsing the optical every single day looking at frames and thinking to myself it would be a fun job to do," Collins recalls. After a meeting with a rep who provided luxury training, "I fell in love with the idea of being a rep." She started a professional Instagram account as a resource to build her confidence during cold calls. She currently works as an independent consultant with Catch London by Tom Davies.
Langton was looking for a job when she moved to Santa Monica, California, and became a receptionist in an optometry office. "My interviewer became my manager, my mentor and a best friend until this day," Langton says. Two months after starting the job, she was trained to be an optician. When her family relocated to Sacramento, she joined another private practice and now has her own online optical store where she sells her own line of plano and prescription eyewear. When she launched her business Instagram account, "we ran into each other and became besties," says Langton.