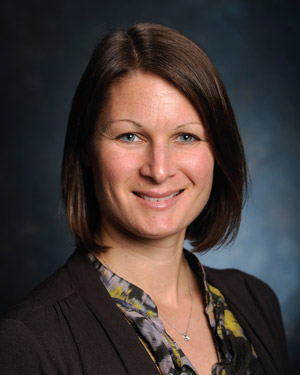 Associate Dean for Clinical Affairs at the University of Alabama at Birmingham School of Optometry (UABSO) Elizabeth Steele, OD, that her passion for education may have started with optometry students, but it extends to the public and other health care providers now. Dr. Steele says that she is honored to be recognized this year by the American Optometric Association as its Optometric Educator of the Year, given the number of dedicated educators in the profession.
Education wasn't always her plan. Dr. Steele joined the UABSO faculty in 2004, following a residency at a nearby VA hospital, to oversee patient care and education at a satellite clinic. It was a temporary position, intended to be a stepping stone toward private practice. But after eight months, she was asked to lead the Clinical Evaluation of the Visual System (CEVS) program for second-year students. This fundamental clinical course needed new structure, and Dr. Steele took on the challenge as course master and then shared the role with a colleague for the next decade. "I was surrounded by fantastic people who wanted to mentor me and assist me in that process," she says.
Dr. Steele and her colleagues transformed the course and it remains ever-evolving; she remains an instructor but has passed on the torch as course master. "The course changed every year—not just the content, but the way we decided to present it—and it continues to do so," she says. "A crucial part of being a good teacher is being a good listener and being willing to learn from those around you—your colleagues, your patients and students."
"The most rewarding part is watching the students transform from beginners who were intimidated by their surroundings, to confident interns ready to see patients. The students themselves were amazed at what they could learn in that one year," Dr. Steele says.
In 2014, Dr. Steele transitioned to the role of Associate Dean for Clinical Affairs, which has required a cut back in her teaching hours. "CEVS was a labor-intensive course, and while I miss teaching and managing it, now I've been able to take different paths and teach new things and be involved in in different ways". In the clinic, "my main goal is to sculpture the clinical experience for the student so it is as similar as possible to what it would be like in a real world practice," Dr. Steele says. There's an increased emphasis on practice management and patient satisfaction. "Excellence for patient care has always been our number one priority, but we are maintaining that and attempting to improve patient experiences, while in turn enhancing the quality of the educational experiences for the students."
The clinic has been working closely with a consultant that has been helpful in showing students how a business is run. This process is still in its early phases, but Dr. Steele is positive about the future outcome, saying that some small strategic changes they've made are showing results. "We want patients to have a quality experience in our clinic, and that goes hand-in-hand with practice management. This profession is changing rapidly, sometimes in a scary way; if we don't respond and help our students to stay on top of it and be prepared, we are doing them a disservice."
Dr. Steele also has a passion for creating greater awareness for the profession among the public and other health care providers. Dr. Steele says that doctors are often surprised by the capabilities of optometrists in their practices. That reaction is proof that more education is necessary. Dr. Steele and her students have has the opportunity to teach ophthalmoscopy to the Adult and Geriatric Nurse Practitioner students at the UAB School of Nursing for the past three years. "There are opportunities like that all over the place on this campus, and I hope as we create more exposure for optometry that we can continue to do it. It's not something you get paid for, but you reap the nontangible benefits."