Tania Sobchuk, OD, saw that her employees who were parents of school-aged children were struggling when schools switched to a virtual learning format in the spring. "These mothers would go home after working all day and maybe find that their children had not done their homework or were struggling with it, and they'd be up until 10 or 11 at night working with their kids," she says.
That created a burden for them and even for the co-workers who sympathized with them but could only do so much to help. So when Dr. Sobchuk saw the posting by Lena Walker, OD, on ODs Divas about hiring someone to help with schooling for employees' kids, she was excited to know she wasn't alone in exploring that option.
SUPERVISED LEARNING
In mid-August, after talking with her accountant and attorney, Dr. Sobchuk launched a morning-long in-office classroom. The four staff members who have children in elementary grades can now bring their kids to work with them at 8 a.m. The practice has hired a high school student who sits in the room with them; she's working on her own schoolwork, but she can help troubleshoot questions, provide some motivation and answer some of the kids' questions. "She's more of a supervisor than a tutor," she says. The parent is also nearby if her intercession is needed.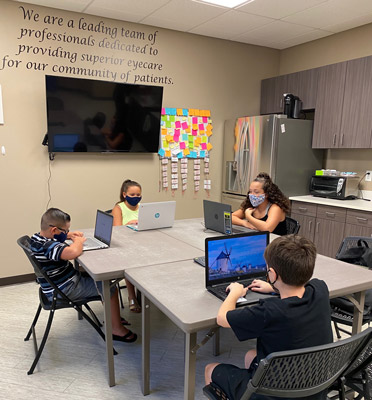 The students work in the employee break room, where everyone is masked. Dr. Sobchuk created a guest Wi-Fi for them. There's a bathroom and access to the refrigerator. Sometime between 11 a.m. and noon, the employees each take their kids home, have lunch with them and leave them there or with whatever day care provisions they have.
Dr. Sobchuck pays the teen as a part-time employee, and each of the parents has signed a liability waiver for having the child on site. "It's been working out great. It's such a help to these moms and families because they can have normal time together after work. The moms aren't as tired or stressed at work or at home because they know that their children are doing the work assigned, and they don't have to stay up late to work with them," she says. "It's part of our family-focused culture. Monetary compensation isn't always the motivator for employees; they like feeling appreciated and knowing that we care about them as people."
CO-WORKERS RELIEVED
Even those employees who do not have children that need supervision with schoolwork appreciate that Dr. Sobchuk thought of this. "Some of them have told me that they can see how much less stressed their parenting co-workers are. Others have said something like, 'I wish my boss had done something like that for me when I was a parent of young kids.' The whole team recognizes the importance of being able to support employees at home as well as in the office."
Plus, she hopes, "This is temporary. We're all doing the best that we can with all the changes we've had to make," she says.  For now, the school district the practice and employees are in has decided to offer virtual learning until October.
One other bonus: "It's nice to have young people in office," says Dr. Sobchuk. When she passes the break room and sees them working earnestly or talking and laughing during a break, it brings a smile and some charming energy to the practice. "It's working out really well."