Maria Nguyen Tantsits, OD, was a junior in college when she mentioned to a classmate that she was considering a career in optometry. She had recently recovered after scratching her cornea during a Mardi Gras parade, and the traumatizing eye injury led to weekly visits to the optometrist. The experience had shown her the true value of her vision and eyes, Dr. Tantsits recalls. "I couldn't open my eyes; they hurt so badly. I thought I would be blind."
Luck would have it that her classmate's aunt was an optometrist and looking for an employee. "I didn't have any experience other than having two eyes and a scratched cornea, but I went in for the interview," Dr. Tantsits says.
When she met Mary Murphy, OD, of Primary Eyecare & Eyeware in St. Louis, Missouri, they quickly discovered a shared enthusiasm about what the profession has to offer. "Dr. Murphy was super excited to have someone who was interested in optometry, and she told me that she would train me since I had no optical background." She was able to work on Saturdays while in school and fill in additional hours over breaks. From her start at the front desk, she then became an optician and technician.
MENTOR MAKES AN IMPRESSION
Dr. Tantsits says it was invaluable to have Dr. Murphy take her under her wing, and the opportunity to work in her office solidified the decision that she would attend optometry school. She also stayed with the practice during her time at the University of Missouri-St. Louis College of Optometry. "I could go into an exam for a cool case to shadow her, and I could see how much her patients love her," Dr. Tantsits says. "That was eye opening, and I knew that was the relationship I wanted with my patients. Dr. Murphy exemplifies what I want to be as a strong female and doctor."
Even before Dr. Tantsits' 2020 graduation, Dr. Murphy started planting the seed about having her join the team as an associate. "After being able to grow there with her for six years as an undergraduate and optometry student, it was a surreal moment to see my name on her office door."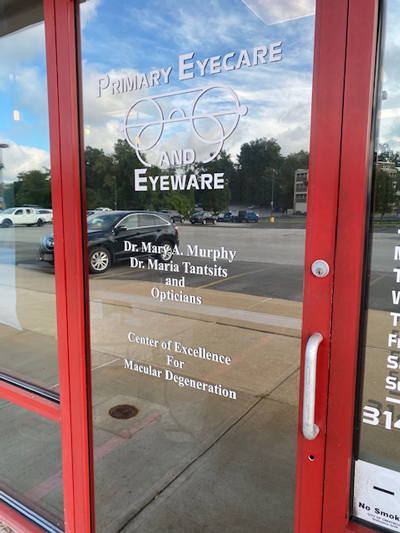 The all-female staff—"a group of really strong ladies," Dr. Tantsits says—has embraced her, as well. By her third year of optometry school, they started referring to her as Dr. Maria; "they were all so proud." Dr. Tantsits says that she's also enjoyed showing them the world of optometry; none of them had any background in the field when they came to the practice.
OPPORTUNITY'S AHEAD
Dr. Tantsits looks forward to building strong connections with her patients just as Dr. Murphy has. It's in the plan for her to buy in to the practice, and Dr. Tantsits says that she's thankful for Dr. Murphy's transparency with the business. Dr. Murphy also consults with Dr. Tantsits on purchases. Neither of them have a formal business background, so the shared experiences are very valuable, she says. "She learned the hard way, and she gives me pointers to save me time."
The practice has a primary care focus, and with a large geriatric patient base, it's earned a reputation as a center for excellence in macular degeneration care. Taking a preventive care approach, they recently acquired AdaptDx to help detect cases sooner. Dr. Tantsits also looks forward to helping launch a dry eye clinic in the office.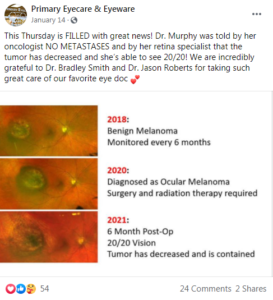 Their optomap technology also draws in a number of patients. They brought in the Optos instrumentation three years ago, and Dr. Murphy acted as the patient during training. "There in the photos was something we hadn't seen before," Dr. Tantsits recalls. Dr. Murphy was diagnosed with melanoma in her eye, and the findings led to radiation treatments that saved her vision. "We made it a big deal; Dr. Murphy knew the signs and symptoms to look for, and she had no idea. When people heard her story, they came in and 100 percent wanted their photos taken."
Dr. Tantsits was happy to spread the word about the technology. "It's heartbreaking that we don't prioritize vision care in our society, and it's only accessible to those who can afford it," she says. As a 2020 graduate, Dr. Tantsits was proud to earn her degree in the year of the eye doctor. "I graduated during the pandemic, and it's been crazy, but I love what I do and I can't imagine doing anything else."  Her impact on the community in St. Louis is just yet beginning.