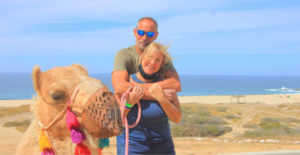 Sue Creek found inspiration throughout the course of her 35 years in the optical industry in creating custom tables with her husband. Creek is a licensed optician who has opened optical stores in 12 countries, and she is currently vice president of sales for Eyenavision.
Creek works with her husband, Danny, on the orders and their designs to create one-of-a-kind pieces via their business, AZ River Tables, which they founded in 2020. Some of these incorporate eyewear in the design, such as their tables or cutting boards, while other stunning creations could be beautiful dispensing tables. Pieces can be customized with different colors.
Creek says that holiday special orders need to be in by Nov. 30 to arrive by Christmas.
Learn more or order custom tables at their website. Follow along on Facebook or Instagram.