You can hear and feel the enthusiasm and passion that Judy Nguyen Thunnissen, OD, has for her practice Bella Eye Care Optometry. It's evident in the first minutes of conversation when talking about the space that she opened nine years ago in Newark, California. Her positive energy spills over into the very special environment she's cultivated for her patients and staff. "I love that Bella means beautiful. I think the world and life itself is beautiful," she says. "It's all about perspective. I want to help my patients continue to see the world in a beautiful light with healthier eyes and better vision."
FROM A SMALL BEGINNING
Dr. Nguyen, the youngest of nine siblings, found inspiration interning in her brother-in-law's optometry practice before college. She spread her wings away from the family for four years at Nova Southeastern College of Optometry, but she always knew she would return after her 2010 graduation. During her first year, she was an employee in several offices, often commuting two hours on one way in the saturated Bay area.
She was making plans for her own office along the way. Along with her sister, who does commercial real estate investments with a specialty in design, Dr. Nguyen found the perfect place in Newark, a 13-square-mile community with a small-town feel despite being in the heart of Silicon Valley. It was across the bridge from home as well as her future husband's workplace as an aerospace engineer. Her sister graciously provided her with a loan to build out the former one-hour photo shop into Bella Eye Care Optometry.
The practice opened its doors in 2011 with just one staff member who was there for five days per week, and Dr. Nguyen worked six or seven days per week with four days spent working for other ODs. "My first staff member made sure I had patients on the days I would be there," Dr. Nguyen says. By nine months, she was working five days in her own office and was down to 5-6 days per month outside of her office. Her following grew quickly, and by 1.5 years in business, she no longer needed a second income.
ENVIRONMENT INSPIRES STAFF
Dr. Nguyen has built Bella Eye Care Optometry into a fun place to work with a focus on team building inside the office with theme days as well as outings as a team. Her staff members, who are affectionately referred to as her Bellas, have become like family. There's been staff turnover in the most positive way possible as staff members leave to further pursue their medical careers. Five of her former staff members left to attend optometry school and another two went to nursing and medical school. In fact, one of those five aspiring ODs just returned to join the team as an associate OD. It's a testimony to the welcoming culture that Dr. Nguyen has created doing what she loves and showing others how they can love optometry as a career, as well. "I encourage them to do to grad school, and I do what I can in my power to help them do that," she says.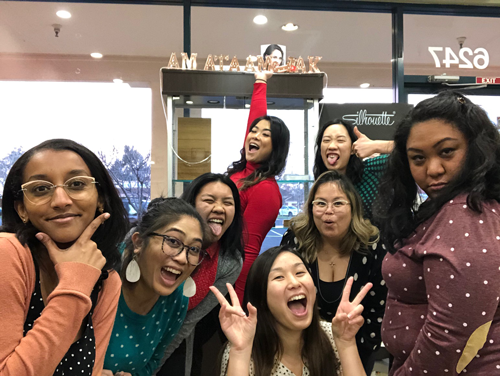 While Dr. Nguyen's maternity leave for her second child and COVID-19 have put a twist on her 2020 schedule, typically she has five doctors working with her at a max of two days per week. "We are all moms, and our children are our priority," Dr. Nguyen says. "I am flexible to help them work." Some work a more full-time schedule in other practices, and some only work the days in her space.
She appreciates that, in turn, they fully support her. When she was pregnant with her first child, Dr. Nguyen was also diagnosed with thyroid cancer and retinopathy, and she had to drop her schedule from five days to three. She's had friends and classmates who have helped her along the way, that allowed her to keep the office functioning and the staff onboard.
THE FUTURE IS BRIGHT
As her staff members find inspiration to pursue their own optometry path, Dr. Nguyen is always looking for ways to step up her own game. Technology is a necessity in her tech savvy locale, and she invests in her business to enhance the services she can provide. Two years ago, she added an OCT and topographer to assist in scleral lens fittings and orthokeratology, and last year, she added the Lipiflow and Lipiscan systems to expand her dry eye treatment abilities. Before COVID-19, "we imaged everyone on the Lipiscan, and I was catching dry eye when I normally wouldn't have," she says.
One of her associate ODs plans to specialize in vision therapy, and already has a waiting list of patients who want to see her. Dr. Nguyen is currently assessing her next step: an office relocation to a bigger space or adding a second office. While there isn't room to expand in her current space, there are other spots in the plaza with potential.