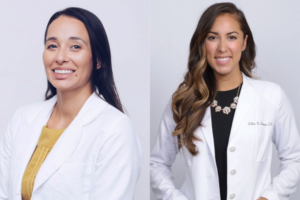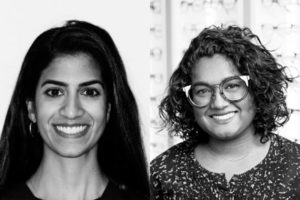 From makeup to skincare, most people apply at least one product directly to or around their eyes daily. Yet, the use of cosmetics isn't often a point of discussion during eye exams. Four ODs have noticed this issue and are researching cosmetic products to stimulate discussion with patients and fellow doctors. Jessica Duran, OD, and Lilia Flores, OD, jointly run an Instagram page, @dreyebeauty, which reviews eye products and gives general information. Natasha Balani, OD, and Sathi Maiti, OD, pursue the same clinical fellowship at Periman Eye Institute in ocular surface disease and dry eyes.
BEGINNING
Dr. Duran and Dr. Flores created their Instagram page when they noticed a big gap between formal education and the exam room experience. Dr. Flores says optometry school does not – and really cannot — focus on cosmetics, so she did not know what to recommend or how to educate patients when they asked questions about their makeup products or eyelash extensions. "Most of our female patients are wearing something around their eyes, and we don't learn or know what is actually good and healthy for the eyes," Dr. Duran says. She adds that the lack of cosmetic awareness is partly because the makeup industry is not heavily regulated in the U.S., and compared to other countries, there are relatively few chemicals that are regulated here. Dr. Flores agrees and says this can pose a problem to many patients who don't realize that companies sometimes don't disclose if they change their formulas, a move that can trigger reactions. What was once good for the person's skin suddenly can be the source of irritations.
Dr. Balani and Dr. Maiti say they faced similar concerns throughout their fellowship. Although both doctors would like to provide a specific cosmetic recommendation list to their patients, both product lists and research are ongoing and ever-changing, and some scientific terms are confusing, Dr. Balani says. What might also be suitable for one patient can be harmful to another because everyone has different sensitivities. For example, a fun work-related field research trip took them to department store cosmetic counters, but they couldn't find a universally good eye makeup remover even after a two-hour search.
INITIATING PATIENT CONVERSATION
Discussing cosmetics with patients is an important step to raise awareness. Dr. Flores says she raises the topic of beauty products naturally when she notices makeup on the tear film or sees that a patient's lashes aren't clean. Dr. Balani says she takes the same initiative when she sees glitter on the tear film or debris on the lashes. Some patients also bring up the conversation if they have concerns about a makeup product they're using or if they're planning on getting eye procedures.
Dr. Maiti says incorporating cosmetics into the patient conversation was a natural process because she comes from a place of understanding, using makeup herself. Patients welcome the conversation because they are learning how and why their makeup product causes them dry eyes or other discomfort. Dr. Duran says that one of her team members discovered that a $60 eyeliner was contributing to her symptoms of dryness. Both Dr. Duran and Dr. Flores say that it doesn't always follow conventional wisdom; a higher price tag doesn't necessarily correlate with better quality.
EFFECT
All four doctors say that their research has helped them better understand and direct patients. In the beginning, Dr. Flores says talking about cosmetics was similar to a guessing game. But co-running the Instagram page and testing different beauty products allowed her to gain more confidence. She has a better grasp of the makeup products out in the market and the type of preservatives and chemicals they include, so she's able to recommend or give advice to her patients more confidently. Dr. Duran agrees with her and says that she can guide her patients to do things the safest way. For example, she says she can't prevent her patient from undergoing eyelash extensions, but she can guide them with some dos and don'ts.
Dr. Balani and Dr. Maiti say they also gained confidence when communicating with their patients because they now know what to look for. Through the fellowship, she's become more aware of the toxic ingredients found in makeup products and how these can affect the ocular surface. Dr. Maiti says that she integrates discussion on cosmetics into her patient conversation to bring awareness about the correlation between beauty and ocular health, so patients are more conscious about the type of products they're using.
GOALS
Both Dr. Duran and Dr. Flores plan to continue using their Instagram page as a platform to communicate with their patients and fellow doctors and bring awareness to the connection between beauty products and the ocular surface. Dr. Balani and Dr. Maiti plan to continue working in the fellowship and carry out their research.
Hear more from these doctors who were recently guests of the WO Voices podcast series. Listen to Dr. Duran and Dr. Flores's podcast here and Dr. Balani and Dr. Maiti's podcast here.