If you had asked Jaclyn Garlich, OD, FAAO, early in her career if she would become a practice owner, her response would have been 'no.' "I was super adverse to the idea; it seemed like a huge headache," she recalls, laughing. She spent several years working in an OD/MD group in Milwaukee, Wisconsin, enjoying the wide scope of care she was able to provide in a medical setting. Then she moved with her husband to Boston for his work in September 2018 and accepted a position as an associate at Envision Optometry in the financial district, a vibrant area with a younger, working class demographic of patients.
The current owner had relocated and needed an optometrist to take her place in the office. As the team leader in the office, Dr. Garlich quickly started taking on more managerial responsibilities. The owner mentioned several times over the years that she was thinking about selling the office, but Dr. Garlich declined. Then came the changing point, Dr. Garlich says. "It was May 2019, and she came into town and said, "I'm going to sell, and I wanted to ask you one more time—are you sure you don't want to buy?" For the first time, Dr. Garlich considered it.
PASSING THE TORCH
The conversation that day with her former employer made Dr. Garlich realize that she really had taken on most of the ownership work already running the day-to-day processes and managing and hiring staff, and that made the transition feel a bit less daunting. By that evening, Dr. Garlich decided she would buy the practice. The purchase was complete in January 2020.
Dr. Garlich was thankful to have had 1.5 years working in the practice before she officially took ownership. By that point, she had seen many of the former doctor's patients for a second annual exam. "I was lucky that people already knew me once we made the announcement, and patients were sweet, kind and welcoming." She keeps her email marketing in a conversational, personal tone, and she's always willing to provide educational eye health presentation—previously live and now virtually—for her patients' offices. "We had so many common questions coming in from patients about computer vision, fatigue and eye strain, so I created a presentation to address those issues," she says.
Practice ownership has also offered Dr. Garlich the flexibility to serve in the National Guard; she has been active nearly nine years now.
MAKING THE PRACTICE HER OWN
Dr. Garlich is in the middle of planning an aesthetic refresh to add her own style to the 1,500 square foot space, which is a corner spot with floor-to-ceiling windows. She's also making her mark on the business by following through on her top goal of expanding dry eye services and care as it runs rampant in her patient population.
She purchased the TearCare system at SECO in 2020, and later in the year, she added a Topcon meibographer, which has helped guide the course of personalized treatment. She's including a SPEED questionnaire with her intake forms for all patients, so she never misses an opportunity to address dry eye symptoms. She brought in a few specific products that she loves to sell in the office: We Love Eyes Hypochlorous Eyelid Cleansing Spray and Tea Tree Water Foaming Cleanser (the line created by Tanya Gill, OD) and vitamin omega supplements from PRN.
Another new addition to her toolbox has been Nanodropper, an adaptor that allows her to efficiently and cost-effectively dispense the same precise amount of eye drops every time.  "Smaller drops are better because they are less toxic to the eye," she says. It's a valuable device for her dry eye patients, as well. "Patients with expensive medication want to be sure that they are getting the full value and not over-dropping," making a big difference for those who use their artificial tears up to four times per day.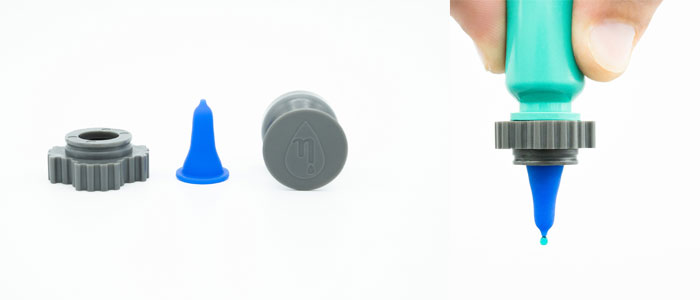 Dr. Garlich says that there is even greater potential in this space on the way now that Massachusetts ODs were given glaucoma and oral prescribing privileges. "I came from Wisconsin where I was treating glaucoma all the time, and moving here was restrictive and tightened my scope of practice. It will be wonderful to be able to practice full scope optometry the way I was trained."