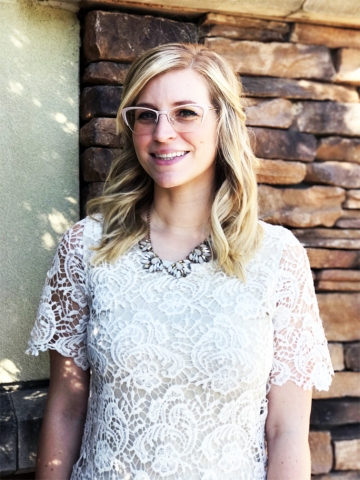 At the risk of becoming a compulsive social media poster, "bombarding my friends with all things eyes," Amanda Rights, OD, decided to get more creative in the way she shares the resources she continuously collects. About a year ago, the Salus University Pennsylvania College of Optometry graduate created her Instagram account, OptomEyesLife, and blog, OptomEyesLife.com.
That was right around the same time that Dr. Rights joined a practice in Boone, North Carolina, as an associate. "I had worked here before optometry school and gained great experience in the eye care field," Dr. Rights says. "It's neat to come full circle now working here as an OD." She's been one of three doctors in the office now since April, and she plans to buy in as a partner in the future. She says the collaborative setting suits her better than the short time she worked as a solo doctor in a satellite office.
The OptomEyesLife name represents the convergence of optometry, eyewear and lifestyle. Dr. Rights says the blog has given her a place to explore her passions in the profession. "It's both a creative and academic outlet for me, in which I can write, practice photography and interact with others," Dr. Rights says. She writes about various topics, including eye care, eyewear fashion, industry events, product reviews and lifestyle advice. She's shared the page with her colleagues and staff members, and if patients are looking for more information on certain topics, she may direct them to her blog. "I'm big into ocular nutrition right now," she says. "I focus on preventive medicine; I want to learn more about what I can recommend to patients, not only to treat, but also prevent ocular diseases. Nutrition is a key component to that, and through the blog, I can provide people with relevant information in a simplified manner." She's also diving into other areas that interest her, such as ocular surface disease and ocular aesthetics. Read more here.