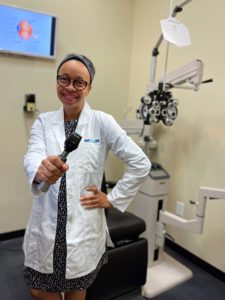 Spooky season is approaching with a delicious twist. Sherelle Morrison, OD, of MyEyeDr in Charlotte, North Carolina, will debut on Halloween Baking Championship Season 7 on Food Network on Sept. 13 at 9 p.m.
From a young age, Dr. Morrison says she always loved being in the kitchen and cooked and baked fairly often as she was growing up. "I always wanted to be that mom who baked fresh cookies for her children when they came back home from school," she says. Fast forward: she is a full-time OD and mom who loves baking for her two daughters.
ALLERGIES PROVIDE IMPETUS
In 2016, Dr. Morrison started cake decorating in earnest because of her eldest daughter's peanut allergy. "Safety is my top priority, especially because baking has a high cross-contamination risk, but I also didn't want to deliver an ugly birthday cake. I wanted to decorate in a way so that my daughter would never feel left out," she says.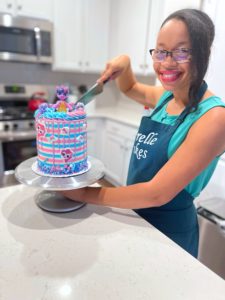 She starts every project from scratch. Dr. Morrison does not have an art or culinary background, so she began by watching tutorials to learn the basics, such as applying cake layers and smoothing the sides. Her decorations are inspired by her creative mind and favorite TV shows, and she loves playing with geometric designs and vibrant colors. Buttercream is Dr. Morrison's favorite building block due to its workable nature and deliciousness.
INCREASING HER PRESENCE
The pandemic gave a whole new layer of motivation, as she used the increased time in the kitchen to relieve work-related and COVID-19-related stress. With more time on her hands, she created an Instagram account solely dedicated to her cake decorations. "I found a community of bakers with whom I could grow. There are so many talented people on the internet, and it's amazing to feed off of each other. We baked around a specific theme and constantly provided each other with feedback and advice," Dr. Morrison says.
Her social media presence did not only form meaningful friendships, but it also paved an opportunity for her Food Network debut. A casting director reached out after seeing one of her earliest Halloween posts of glass-shard eyeball cupcakes. "At first, I was surprised and hesitant because I was new and didn't have a professional background, but I took the leap because it was always my dream to compete in the championships," Dr. Morrison says. The audition stages were a combination of seeing her personality and testing her baking capabilities.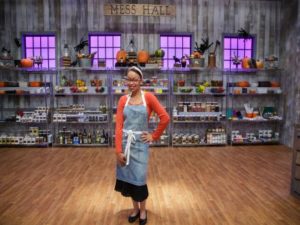 "I was intimidated going into the championships because I would be the only home-baker going toe-to-toe with professional chefs, but my friends and family motivated me with their support," she says. Not many of her patients (yet) know about Dr. Morrison's TV debut because she prefers separating her profession and hobby, but all of her staff members are really excited and have the date written on their calendars.
BAKING FOR A CAUSE
Dr. Morrison has participated in several "bake for a cause" events. Her recent collaboration was with Be the Match, a bone marrow transplantation organization. The events are a great educational opportunity while raising awareness for donations and illnesses. With the same heart she has for her patients, she wants to use baking to give back to the community. While she occasionally sells her bakes, she prioritizes and gets more fulfillment from baking purely as a creative outlet and for making people happy, Dr. Morrison says.
"The TV debut catalyzed a paradigm shift that convinced me that I can handle everything if I am confident and put in my best efforts. It's not easy juggling being an OD, a mom and a baker, but I want to show that everything is within reach," Dr. Morrison says.
Watch and support Dr. Morrison on Halloween Baking Championship Season 7 on the Food Network channel on Sept. 13 at 9 p.m.