Jennifer Tsai, OD, celebrated the launch of Carrot Eyewear with a party at Vision Expo East on Friday, March 22, after a whirlwind six months since founding the line. Dr. Tsai says that she began to develop Carrot Eyewear last October on a simple premise—who better to create quality eyewear for tired, overworked eyes than an actual eye doctor? "With more contact lens patients coming in every week complaining of the symptoms that come with heavy screen-time, I wanted to recommend blue-filter glasses I trusted enough to wear myself, but I found that the options available just missed the mark: too expensive, too old-fashioned or too unflattering," she says.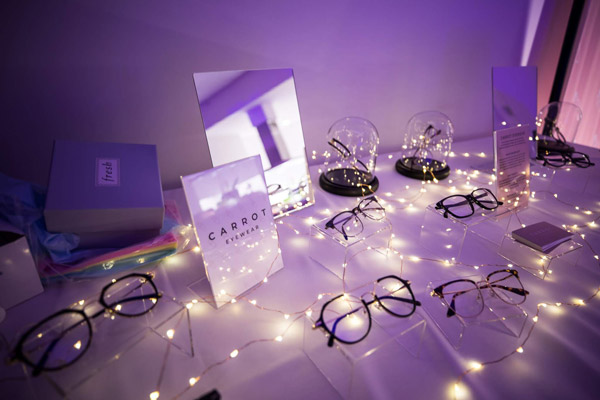 Drawing inspiration from her own personal style and her commitment to providing quality care for her patients, Dr. Tsai dreamed up a solution: fashion-forward, high quality eyewear that would protect against harmful blue light without breaking the bank. "I believe you should be able to have it all—feel great and look good doing it," Dr. Tsai says. "Carrot Eyewear is unique because it blends trendy and functional without breaking the bank." Named Carrot to represent the idea that blue-blocking lenses are healthy for your eyes, these glasses are easy for contact lens wearers to slip on during work or screen time and then tuck away when finished.
Dr. Tsai says that it's been an enjoyable experience to bring her vision to reality from the early stages reviewing designs and sample to putting the finishing touches on the logo, case, cloth and frame styles. For more information or to purchase Carrot Eyewear, visit carroteyewear.com.