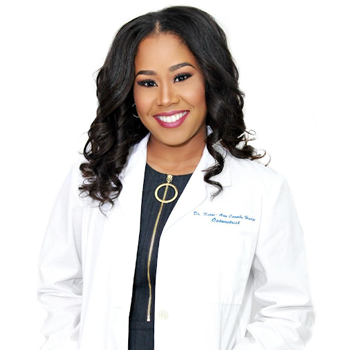 The dream of becoming an optometrist began for Kerri-Ann Coombs Hodge, RN, OD, on the morning of her eighth birthday. Her father, a police officer in their home nation of Jamaica, wasn't there—he had gone to London to have an eye surgery. "I was sad," says Dr. Hodge. Thinking about what her father was going through made even her 8-year-old self consider how she could make a difference. "I wondered if I could be a doctor. I started dreaming."
"I felt my calling was in health care," she says. Although Dr. Hodge considered joining her family members who also serve as teachers, she knew taking care of people was her passion; so she went to nursing school after the family had moved to Houston, Texas. While in school for nursing, a biology professor told her about an optometry school in Houston and introduced her to the profession. Five years after earning her B.S. in nursing, Dr. Hodge returned to school, this time to University of Houston College of Optometry.
ALL IN THE FAMILY
Her admiration of her father has remained a constant in her life. "During optometry school, we had to have patients to examine; my dad was my patient," she says. In fact, it was during one of those exams that she realized for the first time how poor his vision was. He compensated for his vision loss so well. "I was so surprised. I knew he'd ask me for things like 'Hey, can you take me… to work?' But he is so strong. You'd never know."
So when it came time to build her own businesses, Dr. Hodge took her brother's advice. He had told her that the brand name should mean something. So she chose her father's middle name when she launched De'Cordova Eyewear in 2017. Because giving the gift of sight to her patients was not where she wanted to stop, she also launched a frame line by the same name.
Opening a practice and a frame line involved two very different skill sets. "I truly did not know how to approach the frame line," she says. "Our skills are [taking] care of patients. Manufacturing is a different tier." But it was an important part of her mission.
REACHING OUT
She has found that diving head first into the world of manufacturing frames has made her feel more liberated in her scope of practice. "I want to not limit myself. As an optometrist, I can provide vision service and impact my patients, but that impact can be limited to where I am and what I can do. The frame line expands the impact." She can use her reach with the frame line to give charitably. "If I'm able to donate 1,000 or 2,000 pairs of eyeglasses, the impact gets bigger," she says. "I wanted to do something bigger than myself. I can see only one patient at a time and be in only one office at a time. But now, I can be here in Houston and send my frames to kids in Jamaica."
From reaching out to her home community to expressing her own personal style, Dr. Hodge is determined to make a difference. "My job is to maintain vision so that people can see their kids and grandkids," she says. As she's written on her website, "Whether it is finding the best corrective or fashionable pair of lenses, or wanting to sit in a relaxing environment and be nurtured, or just enjoying a spa visit, you can find it at De'Cordova Eyewear. With this approach, we want you to feel fulfilled and empowered with your renewed vision, in order to maximize your full potential."
Dr. Hodge looks forward to future growth in her practice and with the frame line, but it will always come down to family. "I started with what I had and what I knew," she says. "The inspiration is the legacy of my father and to do something about his vision loss."